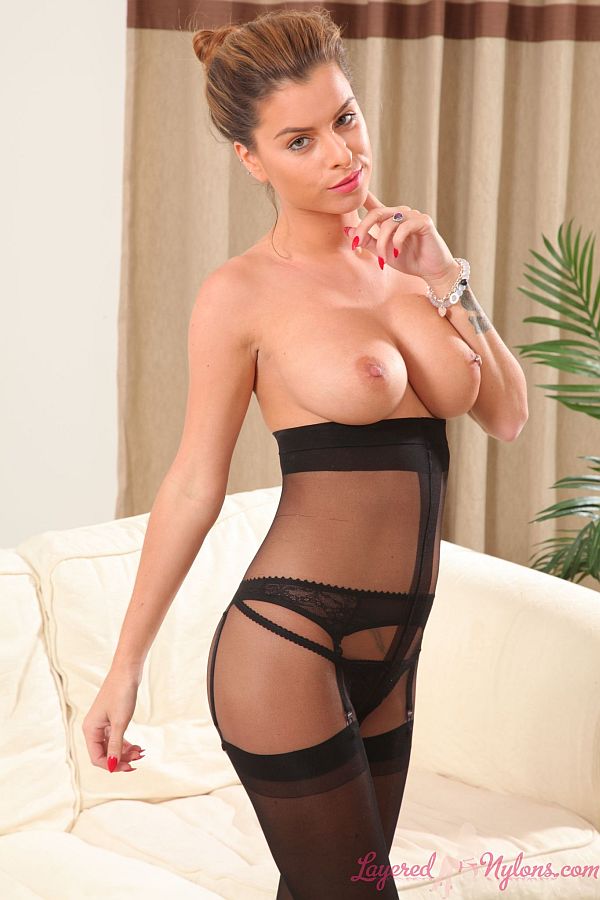 Rae looked very elegant in her long flowing evening dress which almost covered the entirety of her body, except for the low cut top that gave a tantalizing view of her ample cleavage. A dress like that only makes it all the more enticing to think what lies behind those folds of material, and we didn't have to wait long to find out…
Rae reclined on the sofa and pulled back her dress, lifting her shapely legs to reveal black, sheer nylon pantyhose, layered over her black suspenders and stockings. She rolled over onto her front to give us a view of her ass encased in sheer nylon, and her long black suspenders straining on the tops of her stockings.
Rae slipped the thin straps of her dress over her shoulders, allowing the top half to fall away to reveal her breasts and their thick, pink nipples, one of which is pierced. She pressed the mounds of  gorgeous tits together in her hands, as she posed topless in her high-waist pantyhose, suspenders and stockings.
Rae lay back and extended her legs upward, using each foot to slip off those incredibly sexy heels with their gold stilettos, then pulled her pantyhose up her front so it was stretched tight around the crotch of her black, lace pantie thong.