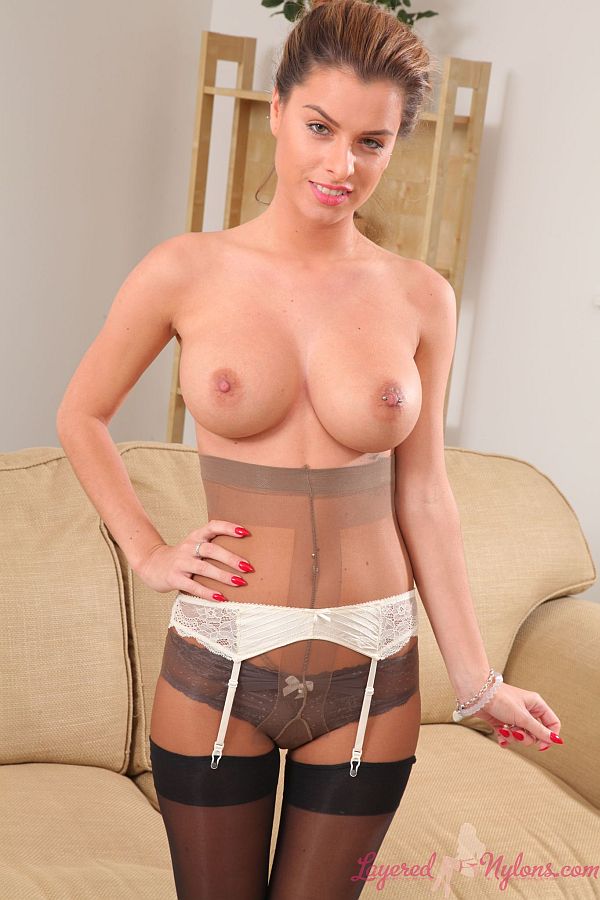 Busty brunette Rae lay on the sofa and crossed her slender legs in black hose, causing her leather skirt to pull back over her thighs and give a tantalizing glimpse of her stocking tops.
Rae stood in her heels and lifted up her skirt, holding it around her waist to give us a full frontal view of her white, lacy suspender belt, layered over grey, sheer nylon pantyhose. The straps of her suspenders attached to the tops of her black stockings looked so sexy as they framed her designer French knickers, which she was wearing under her nylon tights.
Rae pulled her tight, black top over her head to reveal a grey lacy bra that matched her panties, then drew her leather skirt down her stockinged legs. Posing with her pantyhose stretched high up her front, she slipped her fingers between the layers nylon hose and stockings, causing the suspenders to strain on the tops as she moved her hand around her thighs.
Reclining on the sofa, Rae extended her legs and slipped off each of her heels in turn, carefully balancing them on her curled up toes, before removing them completely to display her feet in their layers of nylon encasement.
Slipping the straps of her bra over her shoulders, she stripped it away and rubbed her palms over the firm mounds of her all natural breasts and circled her fingers over the taut nipples. Then she pulled her pantyhose right up her front, so the sheer nylon was stretched over her naked tits as she posed in her layers of lingerie and nylon.