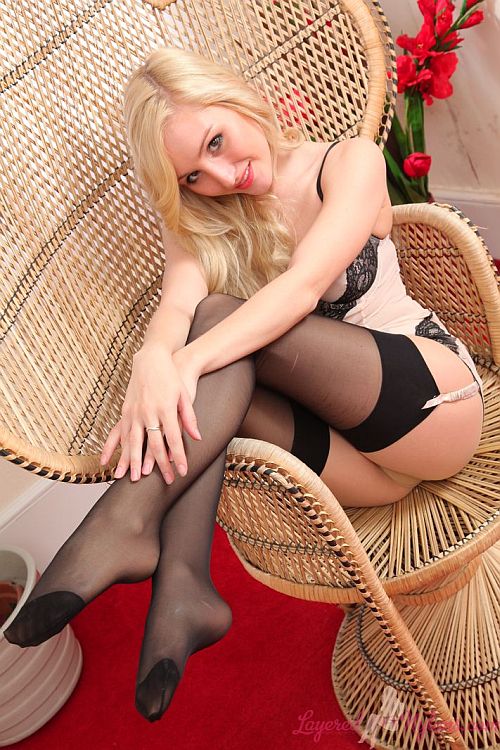 Gorgeous blonde babe Rachelle smiled seductively as she sat back in the cane peacock chair and parted her thighs to show that she was sans panties under her layer of beige, sheer nylon pantyhose. The tops of her black stockings framed her crotch and drew attention to the opaque patch of the gusset tantalizingly concealing her nakedness beneath.
Rachelle slipped off each of her black patent leather heels in turn and dangled them from the tips of her toes, then drew he legs up close and together to display her pretty feet decorated in their layers of nylon.
Sitting with one leg over the arm of the chair offered more views of her pantyhosed crotch as she teased the top of her lingerie basque over her breasts. Slipping the straps of her basque from her shoulders she then stood up to pull the garment over her panthosed ass and down her stockinged legs to remove it.
She smiled as she posed semi-nude and topless, pulling the waistband of her pantyhose upwards until they were stretched up to her ribs, just under her breasts with their pink, bud like nipples. The pretty cream coloured suspender belt that clung tightly around her waist, framed the area of her crotch as the taut suspenders pulled on the tops of her stockings.
Kneeling in front of the chair Rachelle presented us with a rear view of her lovely rounded derrière sheathed in warm toned nylon and offered views of the soles of her feet in their layers of stockings and pantyhose.
See gorgeous blonde Rachelle teasing in her lingerie, sheer nylon pantyhose and stockings in this 126 image photo set at Layered-Nylons.