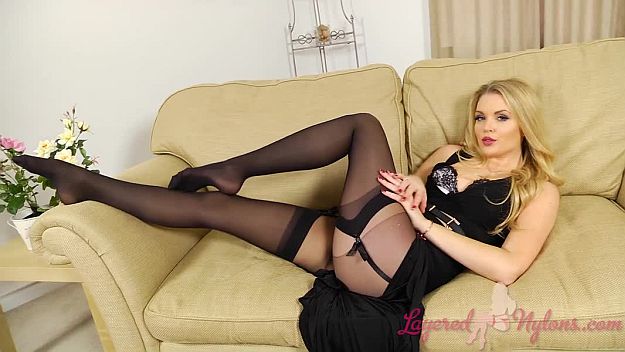 'Hi Guys, I'm Porchia and welcome to my sexy striptease,' said our glamorous blonde as she posed in a very sexy black evening dress that had a slide split which revealed the top of her black stockings.
Porchia stood in her stiletto heels and ran her hand over the material of her dress that covered the curve of her ass. She lifted one leg and rested her foot on the sofa, then drew back the side split of her dress to reveal her thighs clad in black nylon pantyhose layered over her stockings.
Porchia sat on the edge of the sofa and slipped her hand between the top of her stockings and the layer of nylon hose around her thighs. She reached down to stroke her ankle and drew her hand up her slender leg in black nylon, then slipped her thumb under the suspender strap and let it snap back against her thigh.
Sitting back, she crossed one leg over the other and carefully slipped off one of her shoes, then let it swing as she dangled it from her slender foot clad in black nylon hosiery. The shoe dropped to the floor and she repeated the performance with her other stiletto. Then she lay on her back and lifted her legs high and pointed her pretty feet and toes in their sexy layers of nylon.