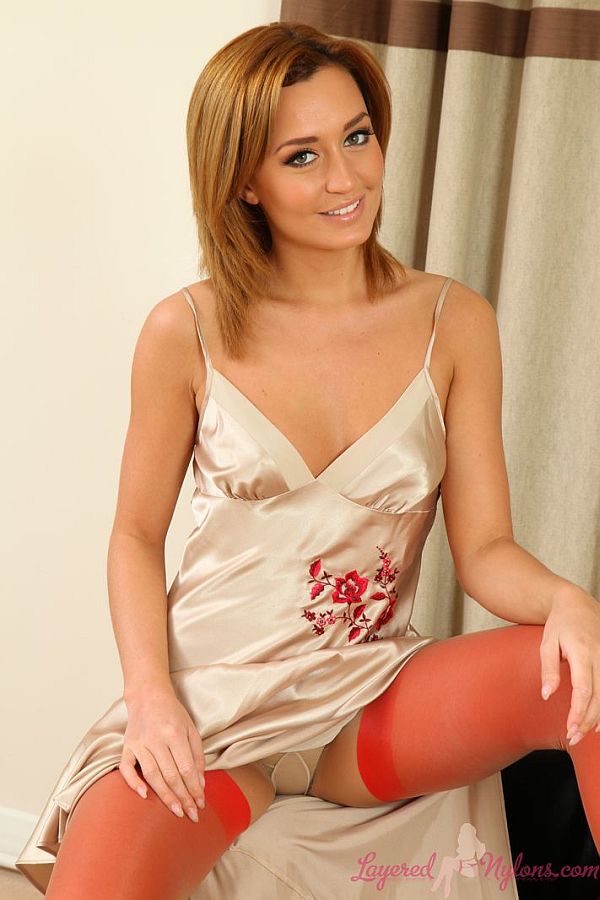 Paige D was casually dressed for a relaxing evening in, looking very elegant in her beige satin slip and open toed mules. She posed with one leg in red shiny nylon sticking out through the side opening of her slip and lifted it slightly to offer more views of her ankles and heels.
Sitting on the arm of the leather sofa she parted her legs to give a view of her beige satin pantie crotch and the tops of her red stockings just under the folds of her slip. Pulling the slip up over her thigh, we could see there was a layer of sheer nylon pantyhose over the stockings and panties, plus a view of white suspenders that stretched down to the top of her red nylons.
Paige slipped the thin straps of her slip over her shoulders and gradually teased the front down, slowly uncovering the soft mounds of her naked breasts and revealing the white lacy suspender belt and high waisted nylon hose underneath.
She pulled the slip down her legs and kicked it away, then stood to show off her shapely legs and the rear of her full-back panties that clung tightly to the cheeks of her bum, plus the taut, white suspenders pulling on the tops of her stockings.
Paige sat once more and took off her heels to offer a close up view of her feet and toes in their layer of bright red stockings and beige sheer nylon pantyhose.