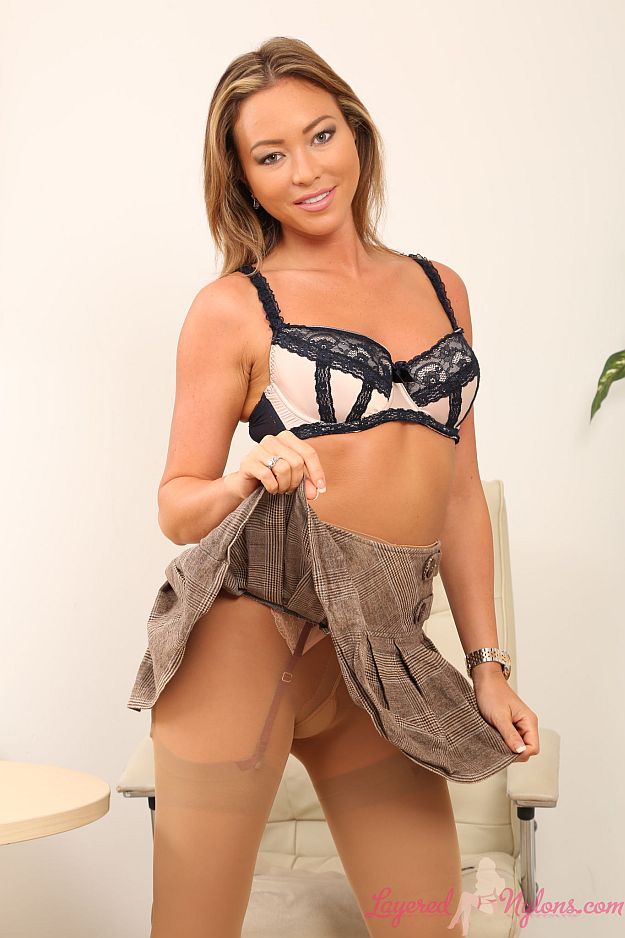 Natalia arrived at the office today, wearing a tight-fitting shirt and short skirt, below which her legs looked beautiful in beige-tan hosiery and patent leather court shoes.
We asked Natalia to show us more, so she lifted one leg and placed her foot on the top of the desk, giving a view up her skirt at her suspenders and tan stockings, under a layer of sheer nylon tights.
Sitting in the chair, Natalia slowly opened her legs wide and revealed she was sans panties, where the gusset of her pantyhose stretched tight around her naked crotch. She unbuttoned the front of her shirt, stripping it off and revealing a peach coloured bra with black lace covering her petite bosom. Slipping the straps of the bra down her arms, she stripped the cups away and exposed her beautifully tanned breasts and perky nipples.
Natalia stood and eased the skirt over her hips and it slid down her legs and uncovered the cream, lace suspender-belt and suspenders attached to her stocking tops. She hooked her thumbs into the waist of her pantyhose and pulled it down to reveal her nakedness; the nylon stretched between her upper thighs as she turned to show the smooth cheeks of her sexy ass.