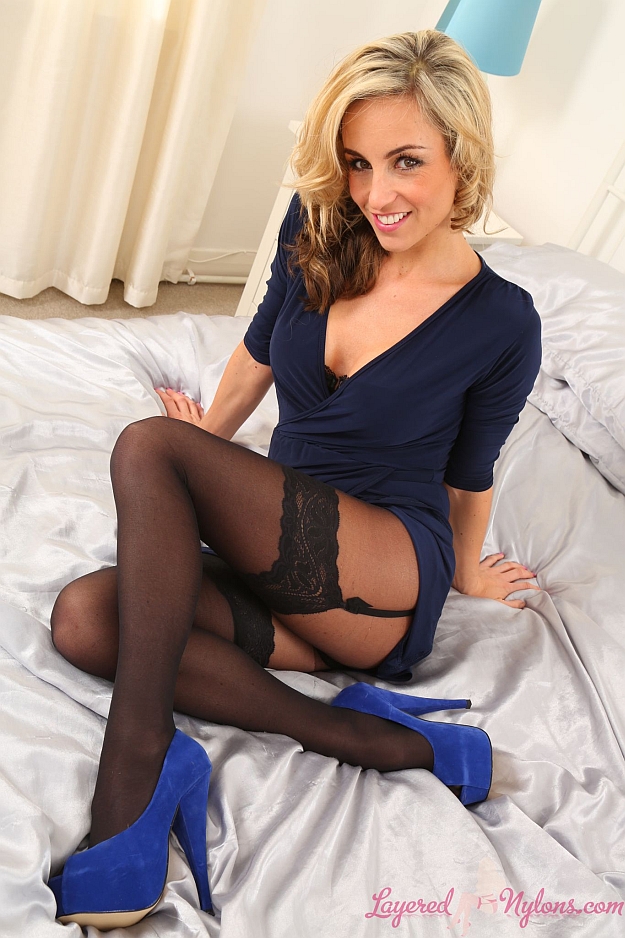 Melanie Walsh returns to Layered-Nylons in another fabulous set, this time wearing a dress with a plunge neckline, black nylon hosiery and suede, open-toe stiletto heels.
Melanie looked particularly glamorous as she posed in her blue dress that gave a glimpse of her cleavage down the open front of her plunge neckline.
Reclining on the bed, she struck some sexy poses, crossing one leg over the other so the hem of her dress pulled back over her thighs to reveal the lace tops of her black stockings. She swung her leg up to draw attention to her sexy suede stiletto heels and her black suspenders stretched over her pantyhosed thighs and pulled taut on her stocking tops.
Melanie stood and stripped the dress over her shoulders and down her body, uncovering a beautiful designer bra in black lace that supported her breasts and cleavage. She turned and pulled the dress over her ass, revealing the 'whale tail' of her pantie thong and the suspenders bound around her buttocks, sheathed in black nylon hose.
Melanie slipped the straps of her bra down her arms and leaned forward to shake her breasts and reveal the thick nipples inside the loose cups. Stripping the bra away, she reclined on the bed and posed in some classic pin-up positions in her black lingerie and layers of nylon hosiery.