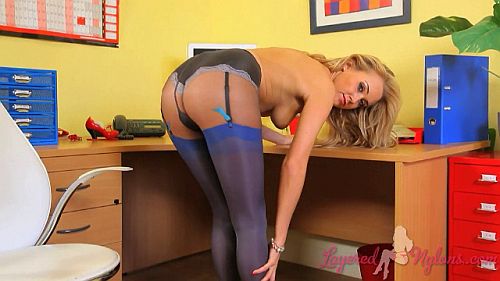 "Hi, Guys, it's Lucy-Anne here. I do hope you like my sexy office outfit today and my striptease out of it!"
Lucy-Anne looks every bit the sexy secretary in her glasses with her hair tied up, the type of girl that likes to let her hair down to prove she's not so prim and proper as she might seem after all.
Lucy-Anne reaches down to touch her legs and moving her hands up she catches the hem of her dress, which she lifts up to show what every sexy office girl loves to wear underneath – stockings and pantyhose.
Sitting on the desk she opens her legs wide to show she is wearing some sexy black panties with a lace trim under her pantyhose, then licking her lips she pulls her spectacles down the bridge of her nose for a naughty look right back at you.
Slipping the dress over her arms she uncovers her petite breasts then, squeezes them in her hands and gives them a quick shake before she turns and lets the dress fall to the floor around her heels.
Lucy-Anne steps out of her dress and pushes her hands down the front and back of her black sheer to waist pantyhose, then pulls them down to uncover the blue stockings and black suspenders she is wearing under her tights.
Pulling the layer of her hose back up once more, Lucy-Anne stretches her tights right up to the level of her naked breasts, then leans over the desk and gives a view of her sexy legs and ass in layers of shiny nylon.
See office girl Lucy-Anne stripteasing in her black, sheer nylon pantyhose layered over blue stockings in this video at Layered-Nylons.