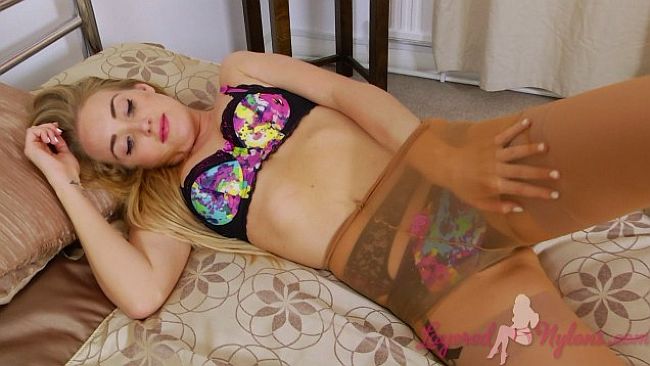 'Hey guys, it's Lucy Anne here. I hope you enjoy my sexy video just for you,' says our saucy blonde, looking extra special in her pink top and shiny fetish skirt at the start of this video.
Lucy pulls up her sexy skirt, revealing she is wearing panties, suspenders and tan stockings under a layer of tan nylon pantyhose. She turns to give us a view of her rear end and runs her hands over her buttocks, feeling the bumps of her suspenders through the thin layer of her sheer nylon tights.
Lucy strips off her top to show she is wearing a colorfully patterned bra that matches the panties she is wearing under her hose. She unzips her skirt and slides it down her legs and reclines on the bed, then pushes her hands down the inside of her pantyhose and explores the flesh of her thighs and tops of her stockings.
Lucy removes her bra and pulling her pantyhose up the front of her belly, she stretches the sheer nylon screen of her hose over her all natural tits as she poses in her lingerie and layers of nylon hosiery.