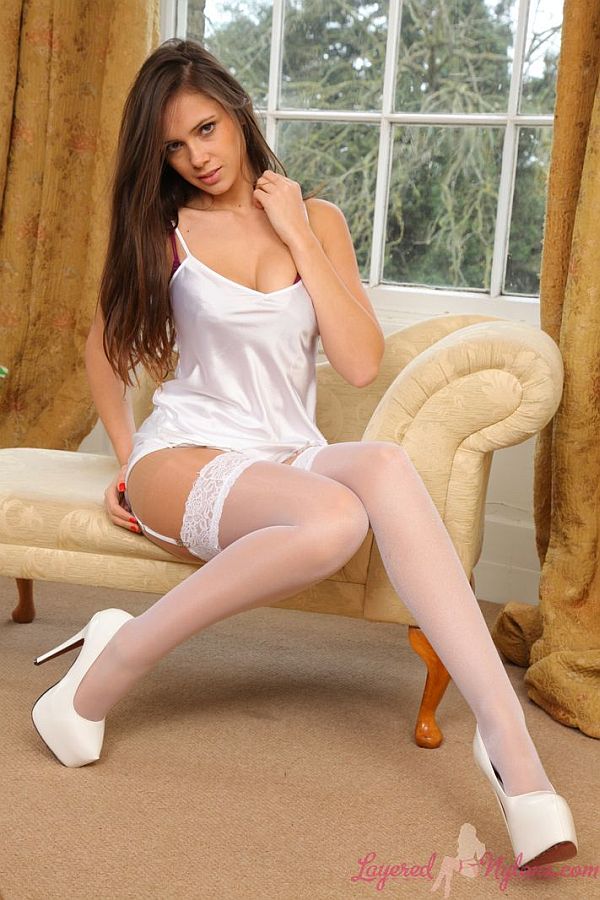 Louisa Marie's long brunette hair hung over her shoulders as she lounged in a slinky, black satin dressing gown and displayed her preferably formed legs in white, shiny nylon stockings and high heels.
Untying the black satin belt of her gown, she opened it up to reveal she was wearing a white satin camisole and satin knickers, below which her white suspenders stretched down her thighs to the pretty lace tops of her nylon stockings.
An almost imperceptible layer of beige nylon pantyhose covered her thighs, only really noticeable because of their slight luster as she lifted up the edge of her knickers to give a better view of the taut white suspenders pulling on the tops of her stockings.
Stripping off her camisole revealed she was also wearing a magenta coloured bra, then she lay back in the chair and hooked her thumbs into the waistband of her knickers, slipping them down her slender legs sheathed in their lustrous, white nylon.
Louisa Marie knelt to display the broad, white garterbelt which clung to her hips and the long suspenders which stretched out over her thighs and the tops of her stockings, all nicely framing the area of her pantyhose crotch under which she was wearing panties.