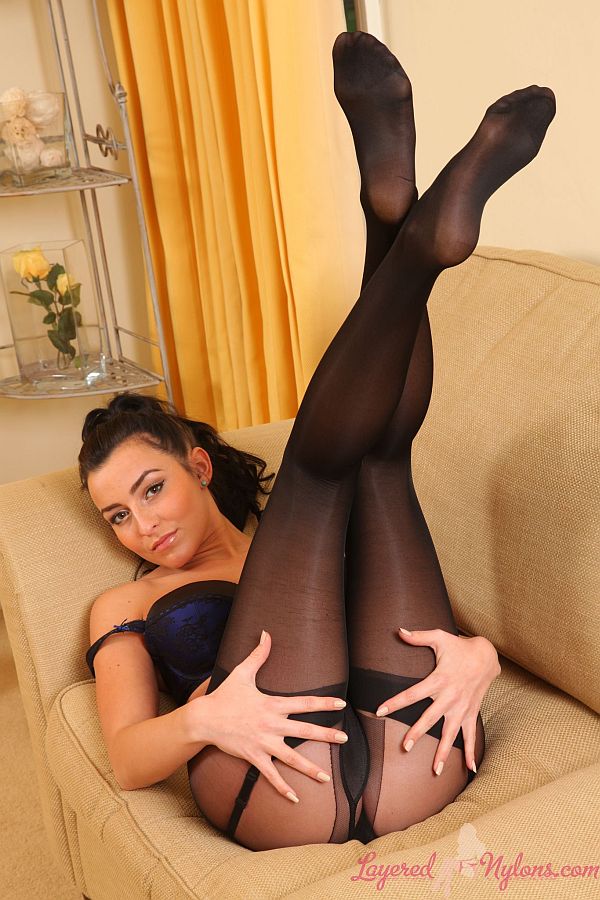 Lily is the type of efficient personal assistant you need to have around the office, hair tied back and dressed for business in her waistcoat and tight skirt, black hosiery and grey heels, she's perfect.
When lunchtime comes she likes to tease you, laying on the sofa in your executive suite and slowly pulling back the hem of her skirt to give a tantalizing glimpse of her suspenders and stocking tops.
Unbuttoning her waistcoat and the front of her skirt, she lifts it up and gives you a view of her tight buttocks encased in black nylon panties under the layer of her sheer pantyhose.
Such an alluring presentation of buttocks, panties and hose, all nicely bound up by her suspenders pulling taut on the tops of her sexy nylon stockings.
Lily stands and wiggles her bum as she strips her skirt down her legs, then takes off her shirt to reveal her blue and black bra that matches the suspender belt around her waist.
Reclining on the sofa, she slips off her heels and raising her legs together, crosses them at the ankles to give a view of her pretty feet in their layers of black nylon hosiery.