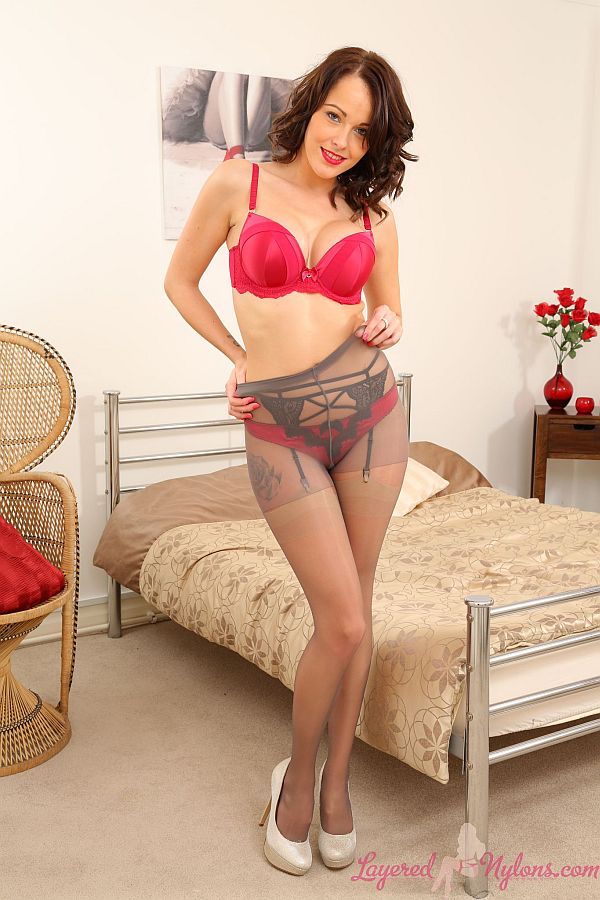 Lacey Jay looked causal and sexy as she posed in her denim jacket, white top, tight grey leggings that gave a tantalizing glimpse of nylon around her ankles and a sexy pair of heels.
Lacey's legs looked fantastic in those sexy leggings as she posed in her heels and turned to give us a view of her fabulous rounded ass. The little bumps of her suspenders visible through the soft elasticated cotton made the view even more exciting and filled us with the anticipation of her pulling off her leggings to reveal her underwear.
Sitting on the edge of the bed she slowly eased the waist of her leggings over her thighs, revealing a dark tan layer of sheer hose, layered over black suspenders and beige stockings. She crossed one leg over the other and slipped off her heels, letting them dangle a moment from her toes before removing them completely.
Lacey stripped off her leggings and knelt on the bed, giving a view of the round cheeks of her ass sheathed in sheer nylon hose. She squatted back on her heels and the black suspenders stretched around her ass and strained on the tops of her stockings, as she gave a view of the soles of her feet in nylon. Then she slipped her hands down the rear of her pantyhose and pushed the palms against the tight layer of nylon that surrounded her buttocks.
She stripped off her top to reveal a red shiny bra, then laying back on the bed she opened her legs to show the matching pair of panties under her hose. She slipped her heels back on her feet and stood by the bed while she pulled on the waist of her pantyhose so they were stretched tight around the crotch of her panties.
Lacey finally stripped off her bra to uncover her all natural breasts and sprawled on the bed while she posed topless in her layers of lingerie and nylon hosiery.