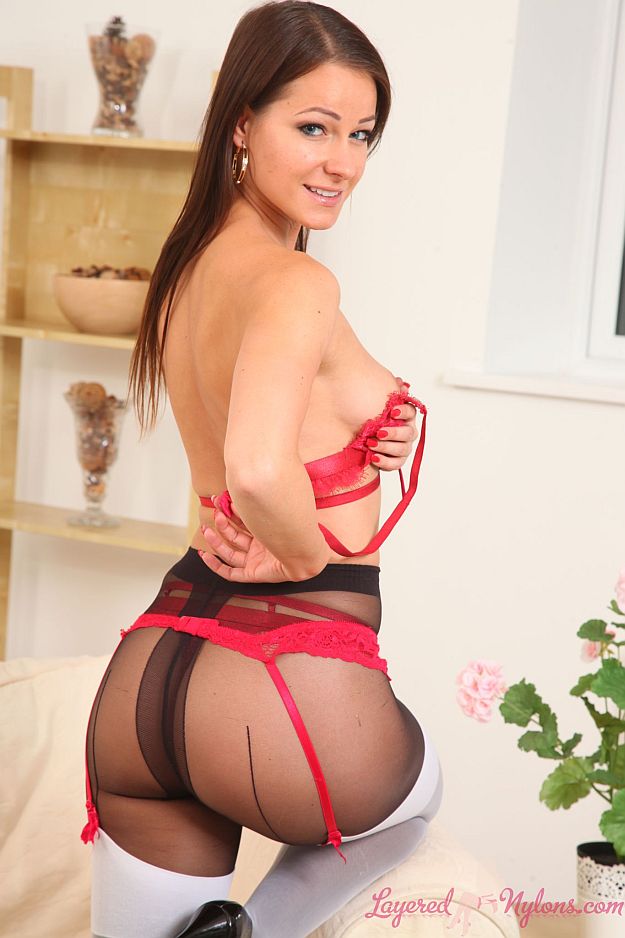 Kristina dressed for the evening in a sexy outfit – black, sleeveless top and short skirt, through which the outlines of her suspenders showed through the gold metallic material. She wore black leggings, and her ankles showed layers of greyish hose where her feet slipped into her shiny, black leather heels.
Kristina sat on the sofa and stripped off the leggings, revealing red suspenders attached to white stockings, layered over black pantyhose. She squatted down on her heels with her legs wide open, giving a view of the black gusset patch of her hose stretched over the crotch of her red panties.
Kristina slipped one hand between the layers of nylon around her thigh and down the inside leg of her white stockings. Then using both hands, she pulled her red suspender-belt upward, so the suspenders stretched and pulled on the tops of her white stockings.
Kristina stripped off the top, revealing a red, designer bra of lace and interlacing straps, matching her lacy suspender-belt and panties around her hips. She lay back on the sofa and pulled down the cups of the bra around the sides of her all natural breasts.
Kristina stripped off the bra and mounted the arm of the sofa, her buttocks in seamed nylon pantyhose, spread out as she sat in that position; her red suspenders stretching around the curve of her ass, straining on the tops of her white, nylon stockings.