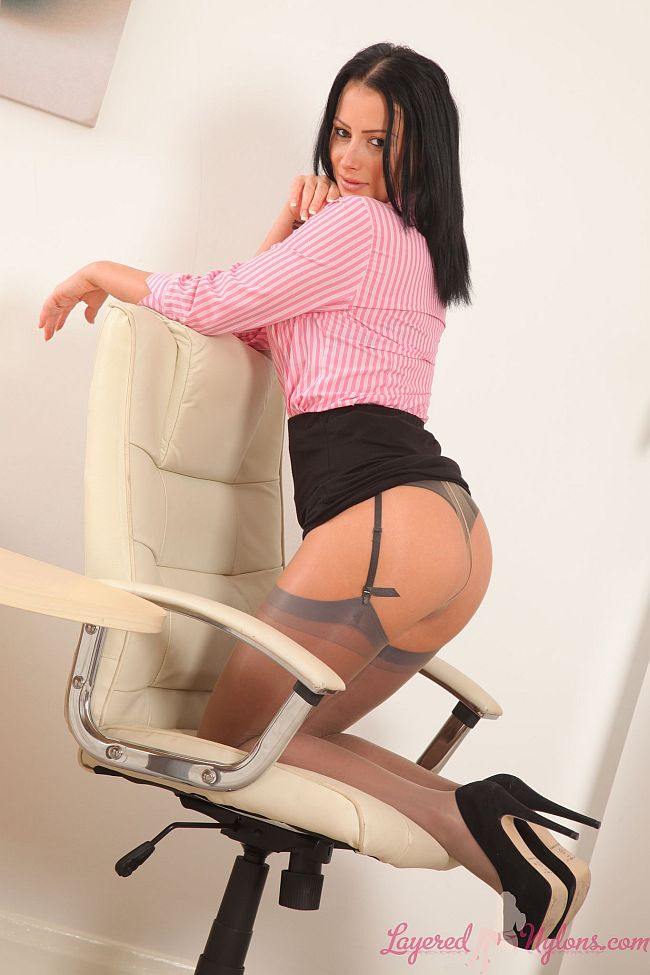 Secretary Kelli arrived in the office looking very smart in a candy pink striped shirt, short black skirt, tan nylon hosiery and suede stiletto heels.
Sitting in her chair she swung her legs up on the table opposite and crossed them at the ankles, the hem of her skirt pulled back over her thighs revealing a tantalizing glimpse of her grey stocking tops. She rubbed her legs together in a slow sensual rhythm, parting them slightly to give a teasing view us of her pantyhose crotch between her thighs.
Kelli unbuttoned the front of her shirt and pulled it open to show the cream colored bra with black lace trimming underneath. Then stripping off her skirt, she knelt on the floor to show her fabulous ass encased in tan nylon and the black suspenders pulling taut on the tops of her stockings.
Kelli stood and stripped off her shirt, revealing more of the her black satin and lace suspender belt and pantie thong under the layer of her tan, sheer nylon pantyhose. Then slipping the straps of her bra down her arms, she teasingly held the cups in place before stripping it away and revealing her all natural breasts.
Kelli pulled the waist of her pantyhose up her front and over her naked breasts, so her thick nipples where squashed under the tight layer of sheer nylon pantyhose.