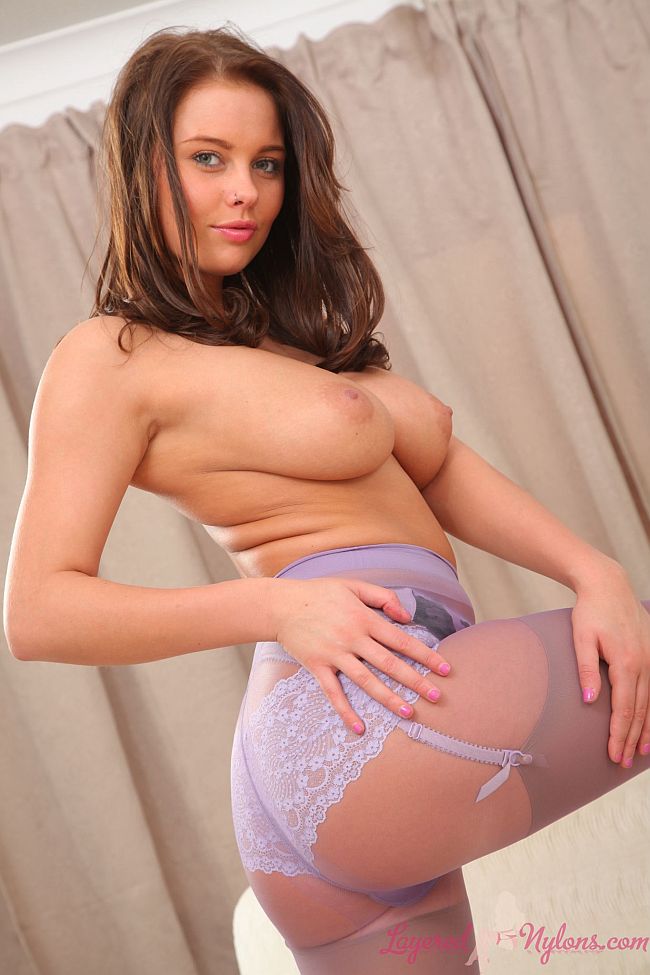 Kay is a pretty brunette babe and makes her debut appearance, teasing in her floral summer dress, lilac tinted pantyhose and purple suede heels.
Relaxing on the white sofa, Kay pulled back the hem of her summer dress revealing lilac colored suspenders attached to tan stockings, under the layer of her sheer nylon pantyhose. She knelt and glanced back over her shoulder with a naughty look in her eyes, lifting the dress higher to show the lacy French knickers under the hose that encased the cheeks of her shapely ass.
Kay lifted up her legs and slipped off her suede heels, allowing them to dangle and balance from the balls of her feet and toes. Letting her heels fall away, she pressed her legs together and raised them high to give a close-up view of the soles of her feet in their layers of nylon hosiery.
Kay stood in her stockinged feet with her back turned and pulled the dress over her head, carefully concealing her breasts with her forearms and hands. She turned around and dropped her arms to expose her breasts, then pulled her pantyhose up her belly so the gusset stretched tight around the crotch of her lace panties.
Pulling the waist of her pantyhose around her hips, she uncovered her pretty lilac and black suspender-belt, then slipped her hand down the inside of her hose while posing topless in her lingerie and nylon.