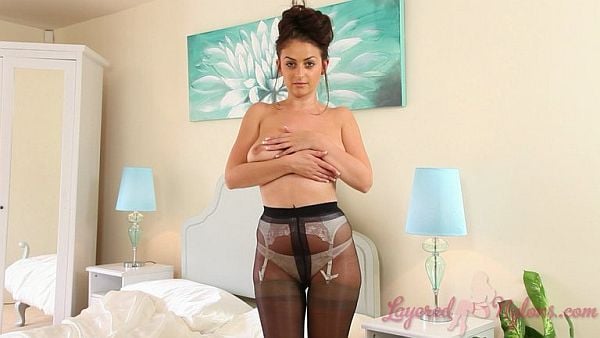 Kate N likes to go clubbing and showed us one of her outfits she wears, including a tight fitting, black leotard, a short khaki skirt and black nylons on her legs.
Kate lifted her skirt around her waist to show her curvy hips in a layer of sheer nylon pantyhose, under which she was wearing an ivory coloured suspender belt, attached to tan nylon stockings.
Sitting on the edge of the bed she felt how smooth and silky her layers of hosiery felt to the touch, as she ran her hands up and down her legs. She then knelt and gave a view of her rear as she moved her hands over her bum cheeks and thighs, her fingers lightly brushing over the bumps of her suspenders through her layer of hose.
Kate unzipped her skirt and slid it down her legs sheathed in black nylon, then stripped off her leotard to show she was wearing an expensive silk and lace bra, matching suspender belt and panties.
Kate fondled her all natural breasts as she stood and posed topless in her layers of lingerie and nylon, then stretched the waist of her pantyhose up so they were pulled tight around her pantie crotch.