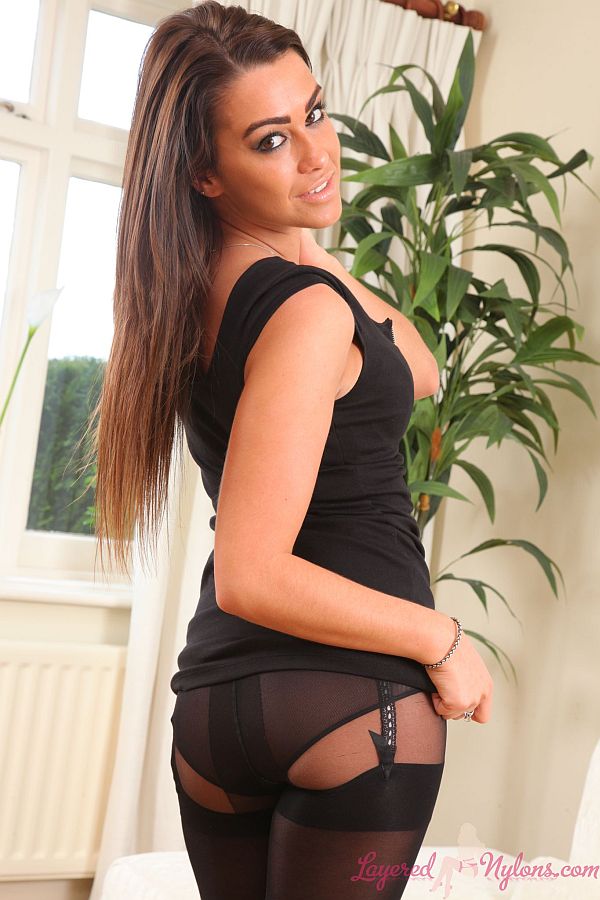 Harriette looked nicely tanned, having just been on holiday and showed us the outfit she wore when she went clubbing – a tight black dress with a zip up the front, black nylon hosiery on her shapely legs and high-stiletto heels.
Harriette knelt on the sofa and tilted up her ass so the short skirt pulled back over her buttocks and revealed she was wearing her stockings over sheer nylon pantyhose. Her suspenders pulled taut on the tops of her nylons and the black triangle of her panties looked incredibly sexy, layered under the gusset at the rear of her tights.
Harriette stood in her heels and pulled up the back of her dress to give more views of her rounded buttocks, sheathed in their layer of clingy nylon hose. Then she unzipped her dress at the front and and peeled it open to reveal a black satin and lace bra and a lace patterned suspender belt that matched her panties.
Slipping the straps of her bra over her shoulders, she reached behind her back to release the catch and lowered the cups to display her natural breasts and thick nipples. Then standing in her heels, she posed in her black lingerie and layers of nylon, which altogether formed a very exciting ensemble as she turned and showed off her slender figure.