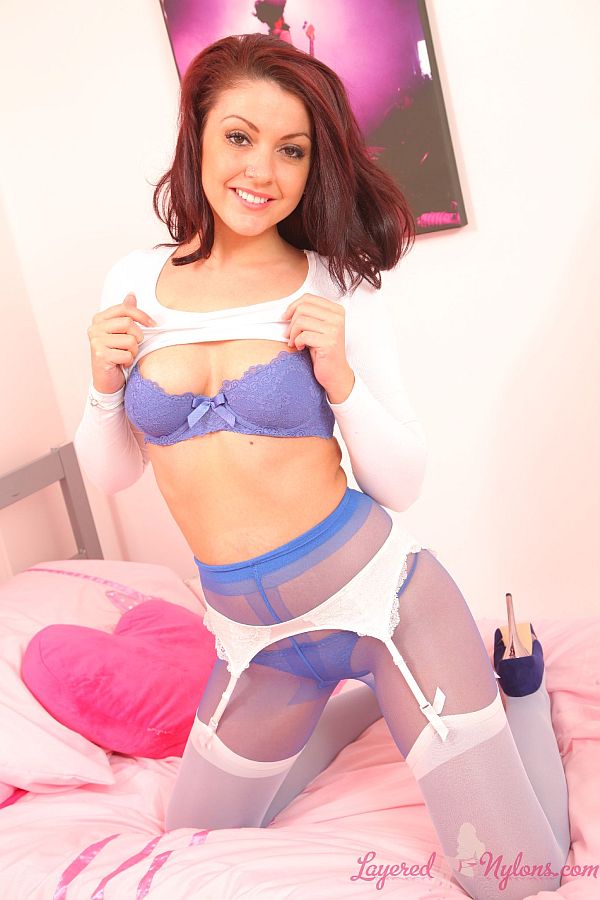 Gorgeous brunette Gemma lay back on the bed and smiled as she lifted up her legs and pulled back her skirt, giving a glimpse of white suspenders attached to white stockings, layered over blue, sheer nylon pantyhose.
She extend her legs to show off her sexy, royal blue shoes with their shiny gold stilettos, then lowered her legs so they were parted to reveal the crotch of her blue panties between her thighs, under the layer of her sheer pantyhose.
Gemma pulled down her skirt and striped it off, then lay back to give a close up view of the blue gusset patch of her hose, stretched over her lacy pantie thong and all nicely framed by the white suspenders attached to her stockings tops. She slipped one hand inside the front her pantyhose so it lay against her belly, as she slid the fingers of her other hand down the top of her white nylon stockings.
Kneeling on the bed she stripped off her short, white top, revealing the lilac colored lace bra that matched her panties. She unhooked her bra and slipped the straps over her shoulders and down her arms, then stripped it away and teasingly cupped her hands over her all natural breasts, before finally revealing all and posing topless in her layers of lingerie and nylon.