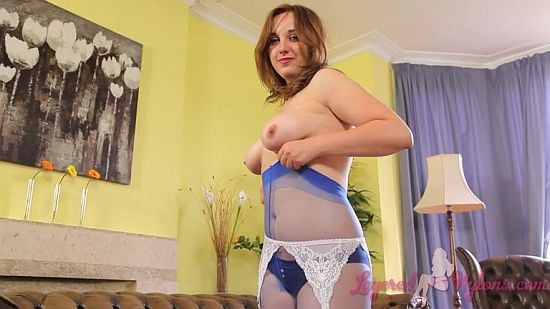 Eve is a gorgeous brunette with smiling eyes and a lovely shapely figure which is outlined by the tight dress she is wearing as she stands in the living room. She sways gently as she moves her hands over her sensuous curves and feels her body through the fabric of her dress, which is short enough to reveal the lacy tops of her white stockings.
Sitting, Eve removes her shoes and rubs her stockinged legs together, then turns to kneel on the sofa and lifts the back of her dress to show she is wearing a layer of sheer blue nylon pantyhose over her full back panties. Her lacy suspender belt clings to the curve of her hips and the long suspenders stretch over the surface of her rounded buttocks and down to the tops of her pretty white stockings.
Slowly slipping the straps of her dress over her shoulder, she teasingly lowers the front to uncover her soft, pendulous breasts and presses them between her arms. She pulls on the waistband of her pantyhose and stretches the sheer nylon upwards to the level of her boobs, then tugs on the lacy tops of her stockings as she poses topless in her sexy layers of lingerie and nylon.
See gorgeous brunette Eve teasing in her layer of white stockings over sheer nylon pantyhose in her video at Layered-Nylons.