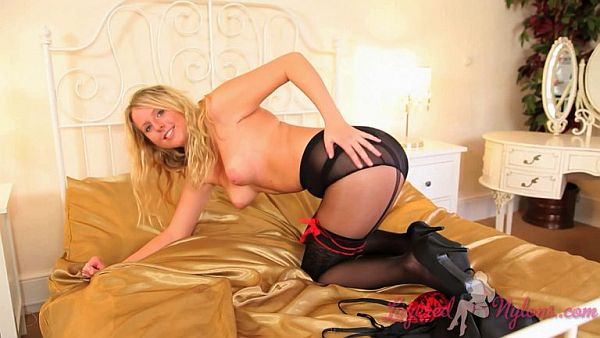 Emma posed in her sexy bedtime attire, sliding the slinky black satin camisole over her hips to show she was wearing sheer nylon, full cut panties under a layer of black, patterned, nylon pantyhose that encased the contours of her curvaceous ass and legs.
Emma turned around to present a view of her sexy thighs clad in black stockings which had deep, lace pattered tops that clung to her thighs, held in place by saucy red and black garters.
She removed her camisole over her head, revealing a red and black bra which supported the mounds of her voluptuous breasts. Then she unclasped the bra and let her conical shaped boobs hang free, as she knelt on the bed and moved her hands over the curves of her ass sheathed in its layer of sheer black pantyhose.
Slipping off each of her heels in turn, she then got off the bed and posed topless while standing in her nyloned feet and displaying her shapely hips, thighs and legs in their close fitting layers of black nylon.