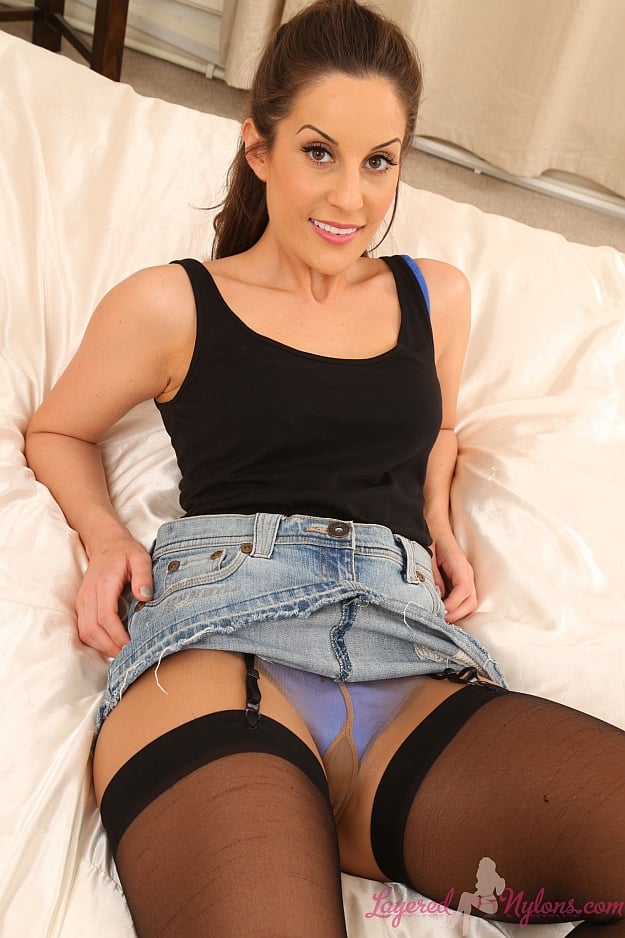 Gorgeous Brunette Emily J looked so sexy as she posed in her leather jacket, low cut top, and short denim skirt that showed her delicious legs in their black hosiery.
Emily looked back over her shoulder as she stood with her legs slightly apart in her sexy black stiletto heels, the tops of her stockings teasingly visible below the hem of her short skirt.
Removing her jacket, she reclined on the bed and slowly eased up her skirt to show her black suspenders and stockings layered over tan pantyhose. She parted her thighs to reveal the reinforced oval gusset and front seam of her hose stretched over the crotch of her blue silk panties.
Emily stood to strip the skirt off and bent over the show her shapely ass in silk panties and tan nylon hosiery; the thin straps of her designer suspender-belt stretched over her buttocks attached to her black stockings.
Taking off her black vest top revealed a matching blue silk bra that she stripped away, then she turned to pose topless in her designer lingerie and layers of nylon hosiery.