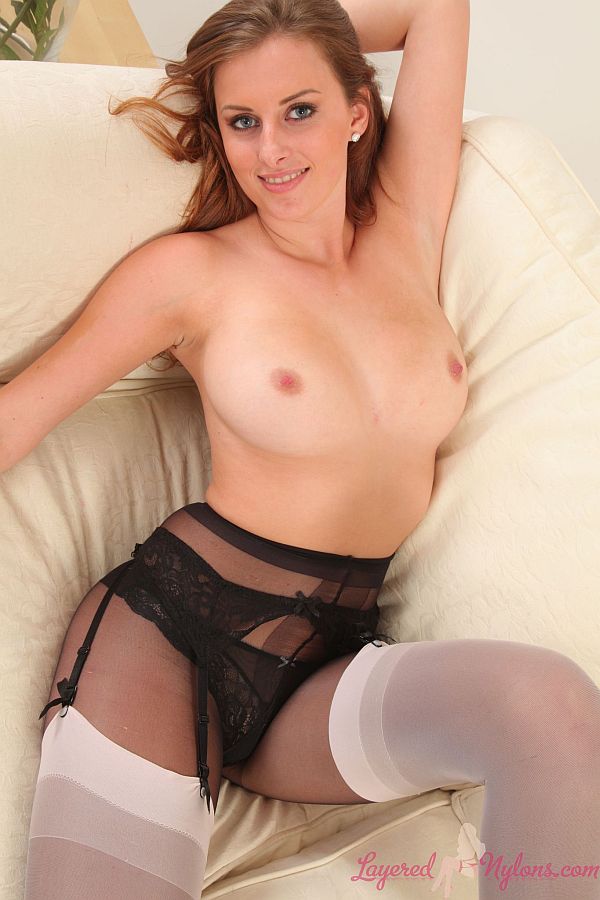 Danielle looked like a model from the 60's as she posed in her two toned, black and pink dress with the zipper up the front, her legs dressed in greyish nylon hosiery and feet in black heels.
On the sofa, she reclined and posed in a series of positions, extending her long legs to give a close-up view of her designer shoes with stiletto heels. Getting into a kneeling position, she lifted up the back of her dress to show the 'whale tail' of her pantie thong and her ass sheathed in a black layer of nylon. The long black straps of her suspenders stretching around her pantyhosed buttocks, pulled on the the taut tops of her white nylon stockings.
Danielle stood and unzipped her dress down the front and opened the two halves to reveal she was wearing a low cut, black bra with lace cups and matching suspender belt around her hips. She turned and let the dress slide over her ass, sheathed in the sexy black panties that clung to her shapely buttocks, under the layer of her sheer nylon tights.
Danielle slipped the straps of her bra over her shoulders and held the cups in place over her boobs, before stripping it away to allow then to hang freely. She pushed her all natural breasts together and squeezed them in her hands as she posed topless on the sofa in her sexy black suspenders, panties and layers of nylon hosiery.