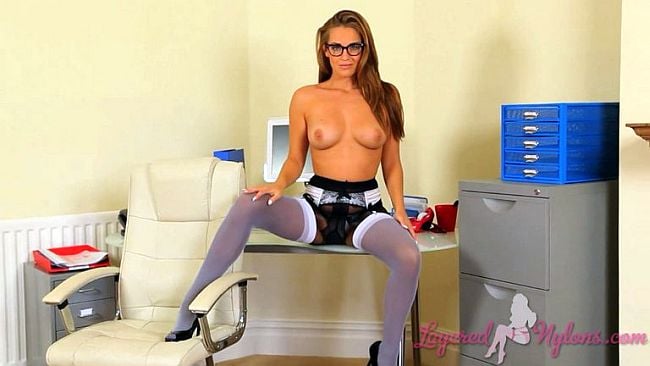 'Hi Guys, I'm Daisy and today I'm your sexy secretary,' says our delectable office girl as she flashes us a cute smile and adjusts her dark rimmed spectacles.
Wearing a white sleeveless shirt and short black skirt, she strikes some saucy poses, rubbing one leg against the other as she stands in her sexy open-toe heels. Lifting her skirt above her thighs, she slides her fingers between the layer of black nylon pantyhose and the white tops of her stockings.
Daisy sits in the chair and opens her legs to give a teasing view of her white pantie crotch behind the gusset of her black pantyhose. Her fingers unbutton the front of her shirt and pull it open to reveal a silver and black, polka dot bra, supporting her ample breasts.
Daisy stands, swaying her sexy ass clad in black panties, then looks back over her shoulder as she releases the catch of her bra and strips if off. Lowering the skirt down her stockinged legs to the floor, she steps out of it and turns to pose topless in her suspenders, panties and layers of nylon hosiery.