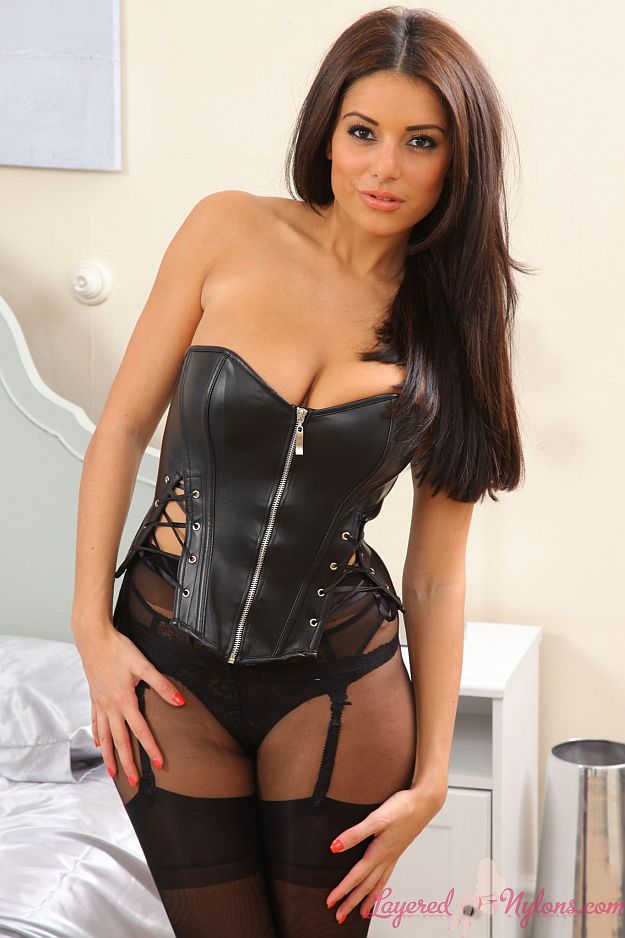 Brunette Charley S looked stunning as she posed hands on hips wearing a leather corset and tight pants and knee-high boots. Watch her strip off and reveal her lingerie and layers of nylon hosiery in this photo-set.
Charley's long brunette hair fell over her naked shoulder as she posed, her ample cleavage showing above the edge of her black leather corset, the outlines of her suspenders clearly defined through the soft leather of her tight-fitting pants.
Reclining on the bed she slipped off her boots and raised her legs to show the soles of her feet in their layers of black nylon hosiery. Then she turned to kneel and pulled down her leather pants to show and her fabulous shaped ass sheathed in black nylon hose; the 'whale tail' of her pantie thong slipping between her buttocks and the taut suspenders attached to the tops of black nylon stockings.
Charley slipped her pants down her stockinged legs and stripped them off, then lifted up her legs for another look at her feet clad in their layers of nylon. She unzipped the front of her corset and held it over her chest before stripping it away to wrap her hands around her voluptuous all natural breasts.
Charley stood by the bed in her stockinged feet and flaunted her shapely figure, pulling her pantyhose up around her waist so the sheer nylon stretched tight around the crotch of her black panties.