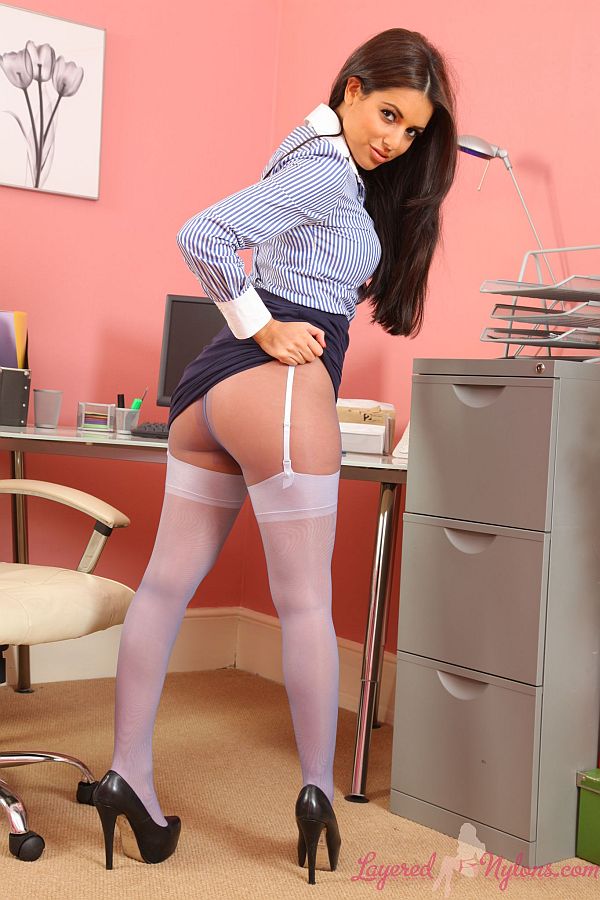 Busty brunette Charley certainly knows how to dress like the perfect secretary, wearing a striped shirt, navy blue pencil skirt and stiletto heels to emphasize the shape of her legs.
Charley slowly raised the back of her skirt to show her amazing ass sheathed in its layer of grey, sheer nylon pantyhose, under which stretched long, white suspenders that were attached to the tops of her white nylon stockings.
Her large bust noticeably pressed against the material of her shirt, which was so tight the buttons were almost busting open at the front. She pulled open the front to give a view of her cleavage and then undid the buttons to fully reveal her violet coloured, silky bra, supporting her voluptuous boobs.
Stripping off her shirt, she then stood and unzipped her pencil skirt and let it side down her legs in their layers of silky smooth nylon, revealing a matching violet pantie thong under her layer of sheer nylon hose.
Charley sat and spread her legs, giving a view of the greyish-purple oval of her pantyhose gusset, which stretched over the area of her crotch and the triangle of her silky panties. Then she reached behind her back to unhook her bra and stripped it away to uncover the mounds of her perfectly formed, all natural breasts.
Charley sat sideways on the top of the desk with her ass slightly over the edge, then pushed her hand down the rear of her tights and moved it under the taut nylon, as she kneaded the firm flesh of her rounded buttocks.