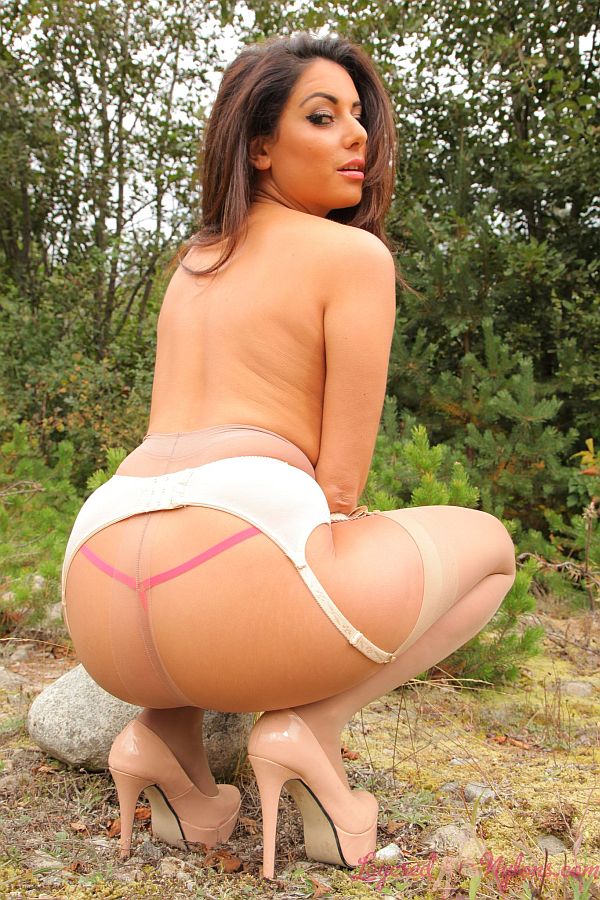 Busty brunette Charley S not only has great boobs, but also a fabulously rounded ass as you'll see in her latest photo set at Layered-Nylons.
We took Charley into the countryside and found a quiet spot and sitting, were she sat on a rock, then opened her legs to give a flash of her panties, under a layer of sheer, beige tan nylon pantyhose.
Standing up, she lifted the back of her dress to give a view of her shapely ass, sheathed in it's layer of nylon hose; the long cream coloured suspenders pulling taut on the tops of her stockings.
Charley stripped off her dress to reveal her magnificent boobs and pressed them together with her forearms to make the pointed nipples jut outward. Her lacy suspender belt around her shapely hips beautifully framed the red thong she was wearing under the layer of her nylon pantyhose.
Bending over to give another view of her fantastically round ass, she ran her hands up her legs from the ankles, then slipped her thumbs under the straps of her suspenders and let them snap back against her thighs.
Finally, slipping off her heels and kneeling on the ground, she presented her nyloned ass and crossed her ankles to display the soles of her feet in their layers of silky, nylon hosiery.