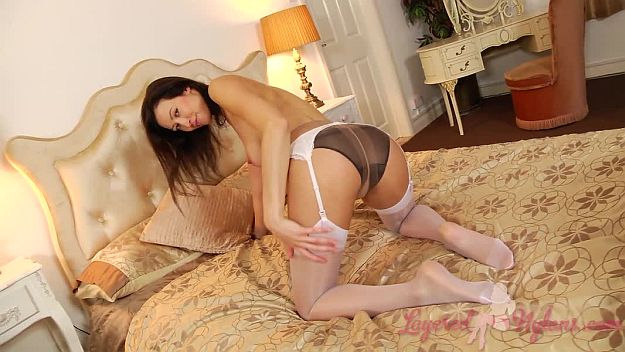 Carole poses elegantly, her long brunette hair falling over the shoulders of her white dress, her slender legs in silky nylon hose and feet cream and gold, open toe heels.
Sitting on the bed, she gives us a seductive smile as she gently brushes her legs together and draws her hands up to her thighs. Pulling back the hem of her dress she teasingly reveals white stockings layered over the beige-tan pantyhose around her thighs.
Carole reclines on the expensive silk bed-sheets and slides her hand down her legs to her ankles and unbuckles the straps of her shoes. Slipping off her heels, she lifts her legs and sensually rubs her feet together in their cocoon of silky, nylon hosiery.
Carole slowly unzips the front of her dress and peels it open, revealing a satin and lace bra and matching panties under the layer of her sheer nylon hose. The white suspender-belt around her waist and taut suspenders attached to her stockings frame the crotch of her sexy panties.
Slipping the straps of her bra over her shoulders, she teases by holding the loose cups over her bosom before finally stripping the garment away to reveal her all natural breasts. She enfolds and gently lifts her breasts with her forearms and tweaks the flesh of her erect nipples between her fingers.
Arising from the bed, Carole stands in her stockinged feet and turns around to show off her beautiful slender body in lingerie and her sensual legs in layers of shiny nylon hosiery.