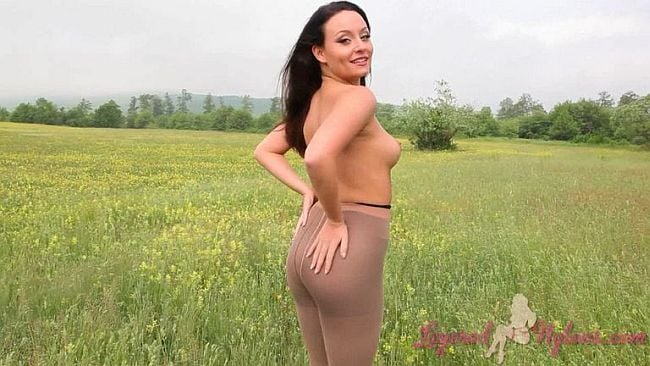 Carla decided she'd like to do this video outdoors as the weather was fine, so she walked out into the fields near-by, wearing just a top, shorts and several layers of sheer nylon pantyhose.
The warm breeze flowed through Carla's long hair as she stood and posed in the long grass. She ran her hands over her curves and bent over to give us a look at her ass in those tight panties and a flash of her cleavage down her black top.
Carla stripped off her shorts and pushing both of her hands between the layers of her pantyhose, she moved them around under the stretchy, sheer nylon. She then teasingly pushed the waistband of her tan hose downward to reveal the shiny layer of black, nylon pantyhose that sheathed the flesh of her shapely buttocks.
Pulling the tan hose back up around her waist once more, she then pushed her hands down the rear of her tights, giving her bum a slow sexy wiggle as she spread her fingers over the cheeks of her ass.
Carla stripped off her top and pushed her all natural breasts together in her hands, then playfully pulled her pantyhose higher up her waist and caressed her fabulous feminine curves, encased in layers of sheer nylon hosiery.