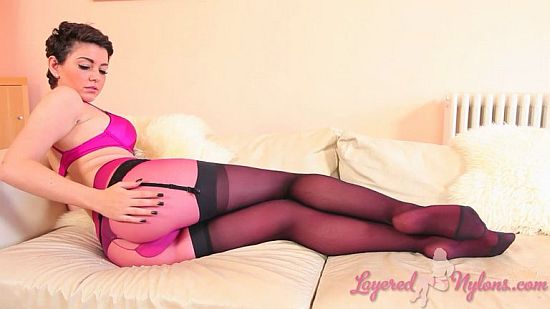 'Hi Guys, Bryoni Kate here, I hope you enjoy my tease while you watch me peel off my skintight jeans,' said our Welsh beauty turning around to give a view of her shapely legs and ass in tight denim.
Bryoni pulled up her black top to reveal she was wearing a fuchsia pink satin bra and similar coloured pantyhose, which stretched up her belly above the waistline of her jeans. Then turning again, she pulled the tight jeans over the cheeks of her ass and slowly eased them down, uncovering the black suspender belt slung around her hips and pretty French knickers below the layer of her sheer nylon pantyhose.
She peeled the jeans down her legs to reveal they were clad in black nylon stockings and attached to the long black suspenders of her garter-belt. Sitting down she slipped off her heels so she could remove the jeans and lay on the sofa with her legs stretched out so she could run her hands over her nylon layers.
Bryoni slipped her thumbs under her taut black suspenders and tugged them outwards, then let them snap back against her nyloned ass. She reached round to unhook her bra and remove it to uncover her breasts, then lay face down on the sofa and smiled.  She playfully moved her legs and feet so that they barely rubbed together and made the soft, whispering sound of nylon brushing against nylon.
See gorgeous Bryoni Kate teasing in her layer of black stockings and suspenders over her nylon pantyhose in this video at Layered-Nylons.