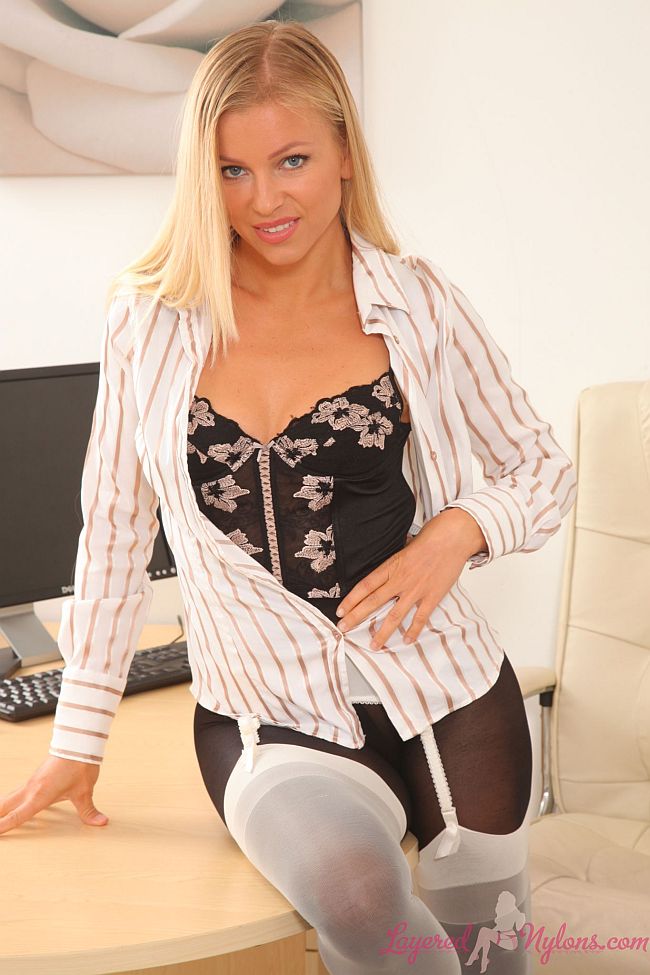 Blonde secretary Blanca looked so sexy in her smart outfit – white shirt, tight fitting black pencil skirt and grey nylon hosiery – as she posed beside the desk.
Blanca sat in her chair and slipped off her heels, her legs brushing together as she lifted them on top of the desk and gave a view of her pretty feet clad in nylon. Getting up to stand and leaning back against the edge of the desk, she pulled her skirt up to reveal white suspenders and stockings, layered over black nylon pantyhose.
Blanca unbuckled the belt around her waist and turned, drawing the tight pencil skirt over her ass and down her legs in their layers nylon hosiery.
Stripping away the shirt revealed black, silky lingerie that fit close around her breasts, then she turned to show the white lacy suspender-belt and taut white suspenders attached her stockings.
Blanca leaned over the desk to give a view of her shapely ass sheathed in black nylon, bounded by the contrasting white suspenders stretching around the curve of her buttocks and pulling on the tops of her nylon stockings.