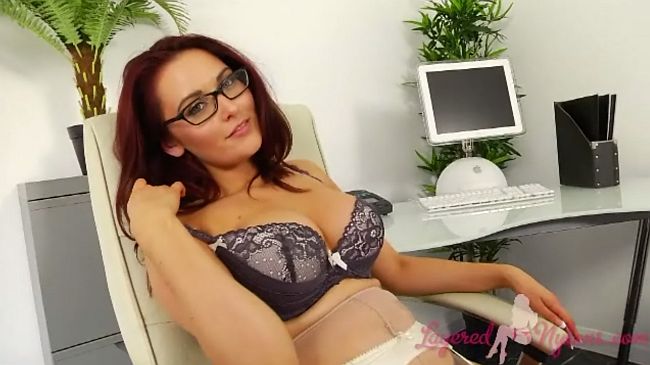 'Hi guys, I'm Zoe Alexandra, I'm wearing my office outfit today and my layered nylons,' said our sexy secretary in glasses, as she posed in a blue shirt and grey pencil skirt at the start of this video…
Zoe is just the sort of secretary you'd love to have around the office, not least because she looks both very sexy and intelligent in her glasses. Her tight fitting pencil skirt, wrapped around her shapely ass as she leans over the desk, really emphasizes the fabulous curves of her classic, feminine figure, which we all love.
Sitting in her chair, she pulled back the hem of her skirt to give us a tantalizing glimpse of her white suspenders attached to the tops of her nylon stockings. She hitched the skirt even higher, giving an upskirt view of the crotch of her panties under a layer of tan pantyhose, which she was wearing under her stockings.
Slipping off her heels, she let them drop onto the floor, then rubbed her feet together in their layers of nylon hosiery. She looked up as her fingers undid the buttons on the front of her shirt and pulled it open to expose her luscious cleavage and lacy black bra.
Zoe knelt in the chair and pulled up the back of her skirt to show her shapely ass, clad in black panties, under a shiny layer of sheer nylon hose. Her suspenders strained on the tops of her stockings, as she ran her thumbs under the taut straps and tugged them outward.
Zoe unzipped the skirt and slid it over her curvaceous ass and down her stockinged legs, then unbuttoned her shirt and stripped it off to fully uncover her lacy bra. Slipping the straps of the bra over her shoulders, she fondled the mounds of her all natural breasts as she posed topless in her layers of lingerie and nylon hosiery.