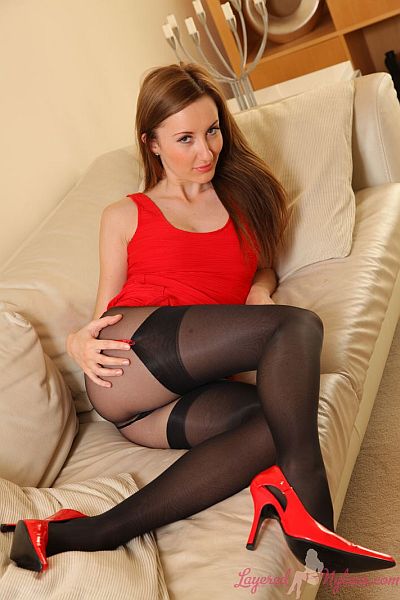 Leggy babe Sophia Smith poses topless and teases in a layer of black stockings over sheer to waist nylon pantyhose in this set of photos at Layered-Nylons.
Sophia was wearing a fabulous combination of red and black for this photo session, her red dress and heels contrasting against the layers of black nylon stockings and pantyhose covering her slender legs.
Sophia slowly lifted the hem of her dress to reveal she also was wearing a red suspender belt; the long straps stretching over the contours of her pantyhosed thighs to the tops of her stockings looked so sexy in contrast. Lifting the dress even higher revealed she was sans panties under her black tights, her pubic hair clearly visible behind the sheer nylon of her pantyhosed crotch.
A subtle smile of pleasure lingered around the edges of her lips as Sophia pushed her hand between the layers of pantyhose and stockings. Then hooking her thumbs under the taut straps of her suspenders, she pulled them slightly out so they tugged on her stocking tops.
Allowing the red dress to slip away she then eased both of her arms down the inside of her pantyhose, sliding them under the red lacy garterbelt and stocking tops, stretching all three layers of lingerie and hosiery with her forearms as she stood there posing topless.
Sophia then slipped off her red heels as she relaxed on the sofa, and lifting her legs together she displayed the under soles of her nylon covered feet.
See gorgeous Sophia in her combination of nylon stockings and pantyhose layers in this 130 image photo set at Layered-Nylons.