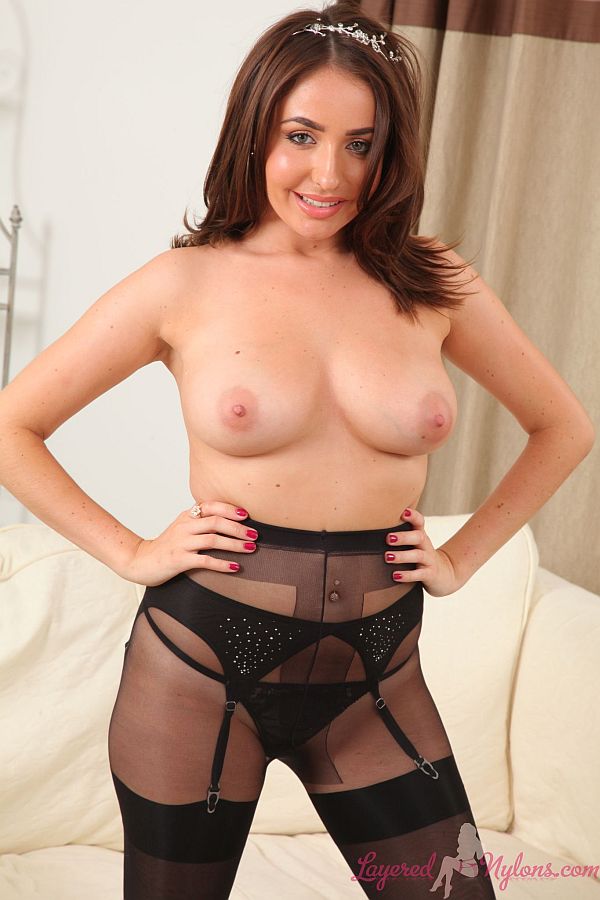 Sian looked very pretty with a tiara in her hair and a long, red evening dress that flowed down her body and invited the imagination to wonder what she was wearing underneath…
Gathering the folds of her dress, it swished around her thighs as she lifted it up to reveal black, sheer pantyhose, layered over a black pantie thong, suspender belt and black nylon stockings.
Sian untied the halterneck of her dress and pulled down the front of it, uncovering the soft flesh of her all natural breasts, which she fondled in her hands. The dress fell with a soft swish to the floor, revealing her fabulous ass sheathed in it's layer of black nylon hose, the thin cord of the pantie thong disappearing between the cleft of her full-rounded buttocks.
Sian knelt of the sofa to give a view of her ass and suspenders, stretching over her buttocks and pulling taut on the tops of her black, nylon stockings. She rolled over onto her back and slipped off her shiny stiletto heels, then lifted up her legs and crossed them at the ankles to display her feet in their layers of nylon hosiery.
Sian posed topless and pushed her hand inside her hose, moving it over the flesh of her thighs under the stretchy, sheer nylon and down the tops of her sexy, black stockings.