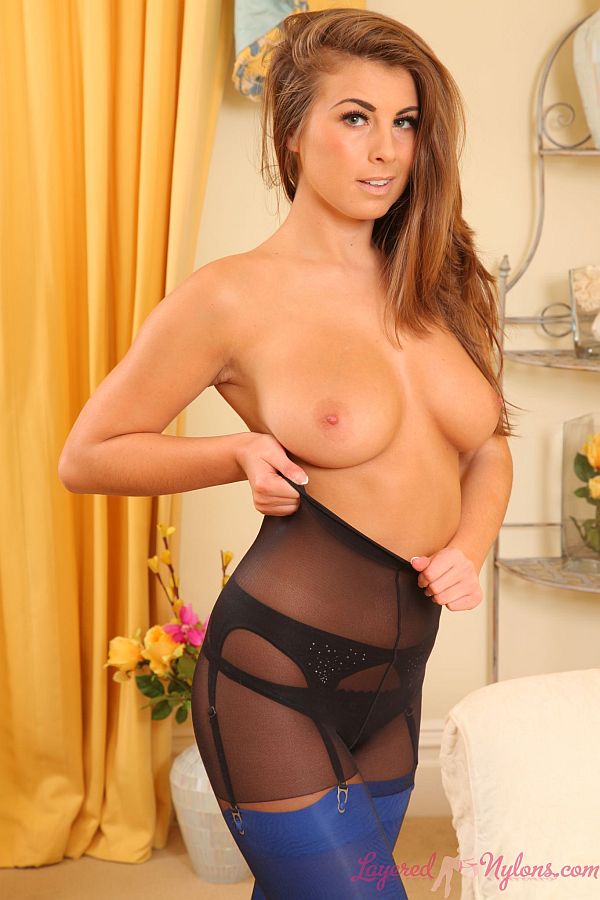 Busty brunette Sarah James' tight fitting dress provocatively displayed the mounds of her ample cleavage, as she sat with her legs parted revealing black panties, suspenders and blue stockings, under a layer of black, sheer nylon pantyhose.
Standing, she turned and pulled up the dress to show off the globes of her rounded buttocks encased in tight fitting nylon, the view of her shapely legs so exquisite in their shiny hosiery as she posed in her sexy, stiletto heels.
Sarah leaned slightly forward and pushed her pert ass back, the thin black material of her black thong disappearing between the cleft of her butt and her suspenders stretching over her thighs and pulling on the tops of her stockings.
Sarah stripped out of her dress and lay back on the sofa to slip off her heels, then lifted her legs and crossed them at the ankles to give a view of her feet and pointed her toes sheathed in their layers of nylon.
Standing once more, she stripped off her black bra and posed topless, pulling down her sheer to waist pantyhose to show more of her black suspender belt with it's diamante design, then stretching her hose up so they were pulled tight around her pantied crotch.