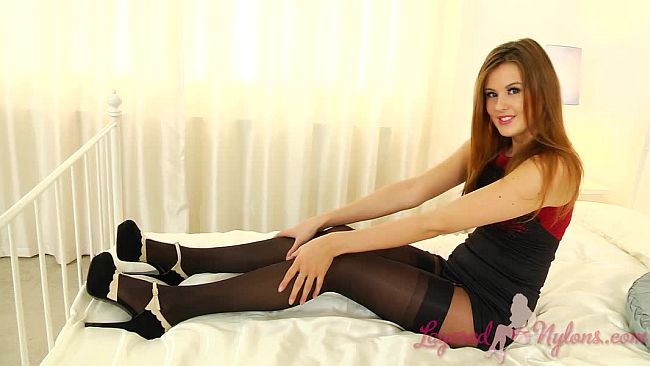 Rosie N stood in her heels and turned to pose in her tight fitting, red and black sleeveless dress, short enough to give a glimpse of her sexy stocking tops below the hem.
Rosie reclined on the bed and the dress pulled back up her thighs as she caressed her legs in their layers of black nylon hosiery. Slipping off her stiletto heels, she she enjoyed the sensation of rubbing the soles of her feet over the cool white satin sheets covering the bed. She knelt and pulled the dress up and over her head to reveal a black and grey under-wired bra interlaced with fuchsia pink ribbons.
Rosie lay back and pulled the high-waist of her pantyhose up her belly, the nylon stretched tight over her black lacy suspender belt and panties. She drew the black straps of her bra down her arms, then swiftly released the catch at the back and pulled it away to uncover her petite all natural breasts.
Rosie got up from the bed and stood in her stockinged feet, posing topless in her layers of black suspenders, panties and sheer nylon hosiery.