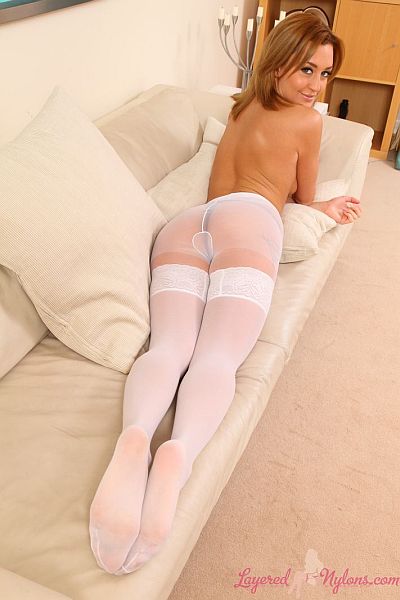 Leggy blonde babe Paige D lifted the hem of her purple dress just high enough to show she was wearing white sheer nylon pantyhose layered over white lace top hold-up stockings.
She tugged her dress downwards and uncovered her petite breasts with their soft, pink brown nipples standing out hard, then pulled the dress over her hips and legs to reveal she was wearing a purple thong under her pantyhose.
Sitting sideways on the sofa she slipped off her pink heels, then lay flat on her front to extend her legs and offer close up views of her feet cocooned in layers of white nylon.
Paige stood and pushed her fingers down the front of her hose to touch her stocking tops, then looked back over her shoulder as she moved her hands round and clasped the cheeks of her ass in her palms.
Turning around to face forward, she then pinched the waistband of her pantyhose between finger and thumb and stretched it up to the level of her naked breasts.
See leggy blonde Paige D teasing in her layers of white nylon pantyhose and stockings in this 135 image photo set at Layered-Nylons.