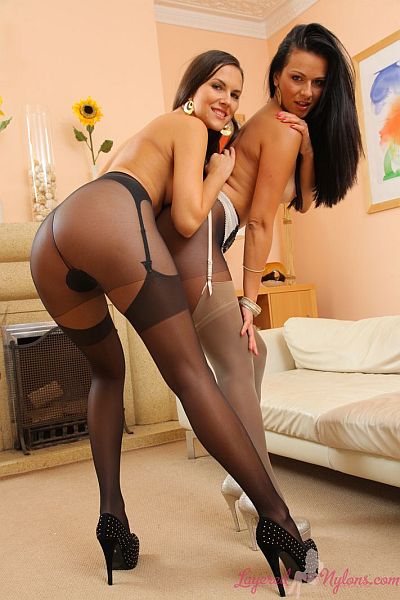 Katya Nova and Zuzannah really hit it off when they met up for this photo shoot, they could barely keep their hands off each other. Both wearing sexy, tight fitting dresses they stood together in a close embrace, their legs looking fabulous in layers of pantyhose and stockings. They looked into each other's eyes and a moment of desire crossed their faces, then their lips met and they shared a passionate kiss which looked so hot!
Katya lifted her black dress to reveal she was sans panties under her sheer to waist pantyhose, and Zuzannah rested her cheek on Katya's ass and playfully tugged on her friend's suspenders. Then both girls stood and kissed again as they lifted their dresses to give views of their asses encased in slick, black nylon hose.
Zuzannah pulled down the front of her dress to uncover her naked breasts. Her long black suspenders stretching over her thighs under the fine, black layer of her sheer nylon pantyhose as she knelt on the sofa and leaned forward to lick Katya's exposed nipples.
Katya then knelt beside Zuzannah as she lay back on the sofa and softly kissed the area around her belly-button; her lips brushing the naked flesh above and below her friend's lacy black suspender belt. They both embraced, their breasts almost touching as they pressed their shapely, half-naked bodies together and explored each other's curves through their layers of lingerie and nylon.
See Katya and Zuzannah get hot and horny together in their layers of nylon pantyhose and stockings in this 133 image photo set at Layered-Nylons.