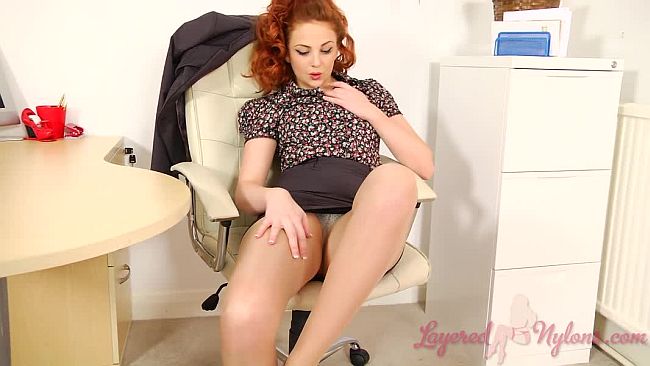 'Hi. I'm Kara Carter and today you've caught me at work,' said our gorgeous redheaded secretary as she stood and posed coquettishly in her smart suit and pink stiletto heels. 'Now, I'm not your normal secretary, as I like to be naughty in the office, so I thought I'd show you my little outfit.'
Sitting back in her chair, Kara lifted her legs onto the top of her desk and displayed her lovely pink heels as she ran her hands over her nylon hosiery. She striped off her jacket and revealed her blouse open at the front; the buttons almost popping off under the pressure of her breasts thrusting from under the tight material. She unbuttoned her blouse and shifted around in her chair, parting her thighs slightly to give a tantalizing glimpse up her skirt at her panties.
Kara stood to unzip her skirt and pulled it down over her ass and thighs, letting it slide down her stockinged legs to the floor around her heels. She stepped out of her skirt and threw it to one side, revealing a skimpy suspender belt and pale blue pantie thong, under the layer of her beige, sheer nylon pantyhose.
Kara climbed onto the desk and kneeling, she pushed her hand down the rear of her pantyhose and slipped her fingers down the top of her beige stockings, playfully brushing her fingertips over the soft flesh of her thigh. She got in to a sitting position and moved her hand round to the front, pushing it against the taut nylon of her hose as she caressed her inner thighs and the crotch of her panties.