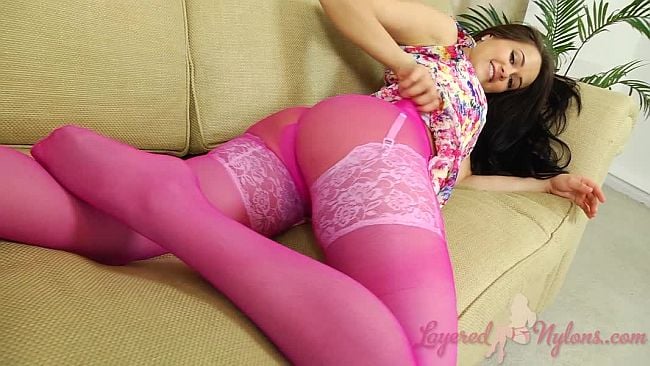 Felicity Hill appears flirtatious, twirling her hair around her fingers and blowing us kisses as she poses in her pretty floral dress. She sways and turns, lifting the back of her dress to reveal her panties, taut white suspenders and lace tops of her stockings, under a layer of pink, sheer nylon pantyhose.
Felicity reclines on the sofa and her hands caress the surface of the hosiery covering her shapely legs, then slips off her erotic pink suede shoes with their gold stiletto heels. Lifting her legs and crossing them at the ankles, she points her toes and shows the soles of her pretty feet as she rubs them together in their layers of pinkish nylon hose.
Felicity strips off her dress, revealing a pretty, floral patterned bra that matches her silky panties under her sheer nylon tights. She kneels on the sofa and presents her fabulous ass, sheathed in pink nylon and bound by the long white suspenders attached to her lacy stocking tops.
Standing in her stockinged feet, Felicity slips the straps of her bra over her shoulders and teasingly holds the loose cups over her boobs. Stripping the bra away, she fondles her all natural breasts and gives then a jiggle as she poses in her lingerie and layers of nylon hosiery.