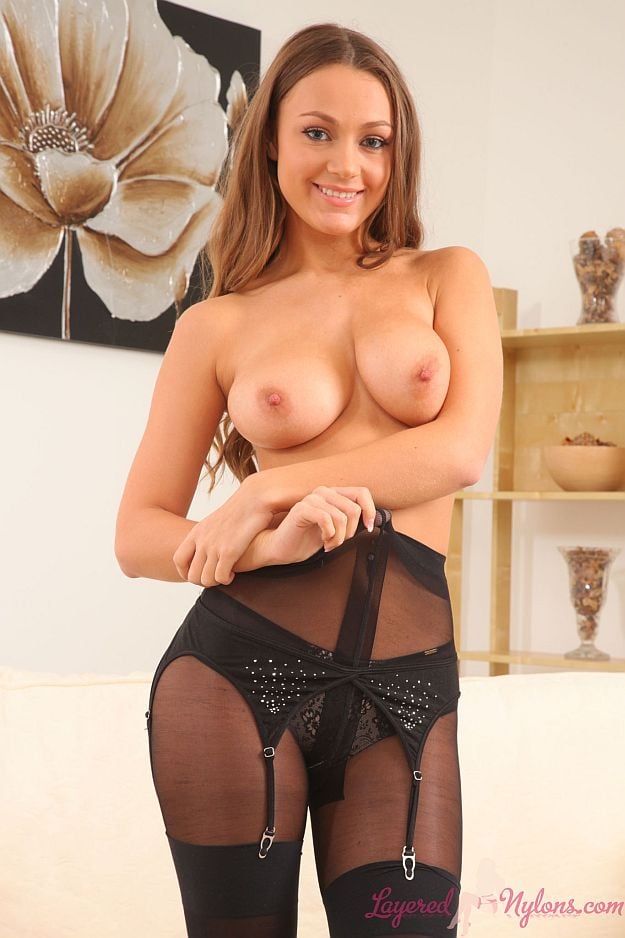 Pretty brunette Zofeya looked especially alluring as she posed in her flirty dress which flared around her thighs, her long legs dressed in black hosiery and high stiletto heels.
Zofeya smiled beautifully, a sparkle igniting her eyes as she lifted up the hem of her dress and revealed thin, black suspenders and metal clasps attached to her stocking tops. She turned to show her ass clad in black lace panties, under a layer of sheer nylon pantyhose that encased her pert buttocks.
Zofeya removed her incredibly high-stiletto heels and stood in her stockinged feet as she pulled down the top of her dress to uncover her lacy bra. She stripped the dress off and stepped out of it to pose, revealing the black suspender-belt decorated with glittering diamante stones.
Reclining on the white sofa, she pushed her hand under her suspender-belt and deep inside the front of her pantyhose to caress the flesh of her thigh. Then she knelt and slipped the straps of her bra over her shoulder and pulled down the cups to display her ample, all natural breasts.
Zofeya got up and stripped her bra away, posing with her long brunette hair cascading over her shoulder and her arms framing the sides of her pendulous tits.