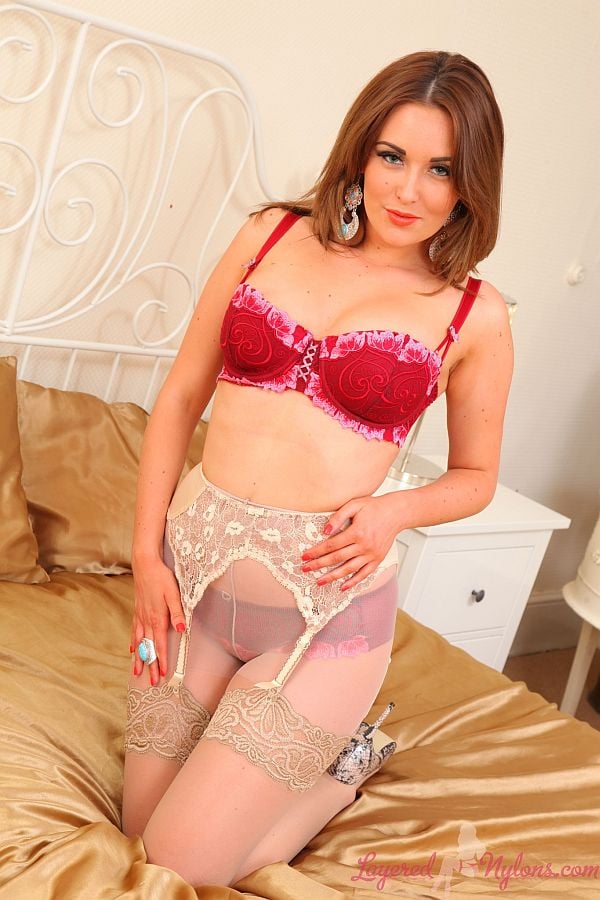 Zoe's elegant, floral lace topped stockings looked so tantalizing below the hem of her flared dress as she stood by the bed and posed in her sexy heels.
Turning to give and upskirt view, we could see the oval shape of her pantyhose gusset stretched tightly under her crotch, and the taut cream coloured suspenders, attached to the lacy tops of her tan nylon stockings.
Zoe knelt on the bed and flipped up her dress to show she was wearing red, full back panties, under a layer of white, sheer nylon pantyhose that encased her fabulously round buttocks.
Stripping off the dress revealed she was wearing a dazzling, red bra, with patterned swirls and pink frilly decorations around the edges, and a lacy suspender belt which clung to the curves of her shapely hips.
Zoe stood and gave a close up view of her ass encased in nylon as she reached behind to unhook her bra, then turned around and pulled the straps down her arms to uncover and display her all natural breasts.
Zoe slipped off each of her heels and lay back with her shapely legs lifted up and crossed at the ankles, giving close up views of her dainty feet, cocooned in opaque layers of nylon stockings and pantyhose