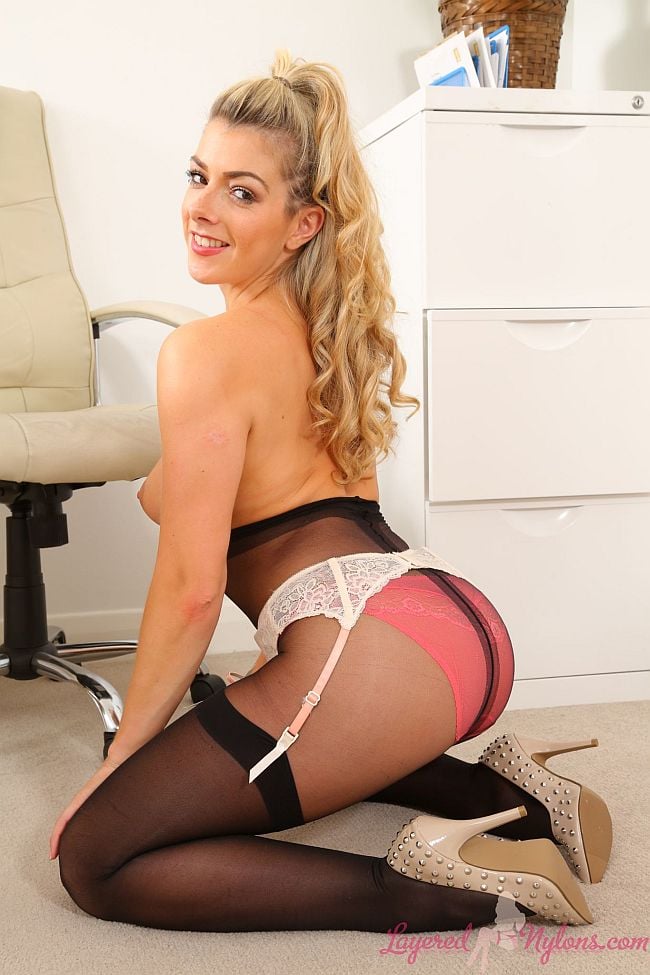 Secretary Tillie wears a daring sheer lace top through which you can see her pink bra, tight skirt and legs in black hose, all of which is guaranteed to grab the attention of her male colleagues. Most bosses would send Tillie home for being so provocative, but not in our office as you'd expect, as we love a girl who likes to flirt…
We just love the way she leans over the desk and her skirt wraps tight around her shapely ass, a glimpse of suspender appearing under the hem attached to the tops of her stockings. So very naughty!
Sitting in the chair she opens her legs to give an up-skirt view and show she is wearing a layer of black sheer nylon pantyhose, the opaque black oval of the gusset stretched over the crotch of her pink panties underneath.
Tillie strips off her top and skirt, revealing a gorgeous pink lace patterned bra, and lacy suspender-belt layered over her black, high-waist pantyhose. She plays around with her hose, stretching them up up her belly so they cover her pink bra, then sliding her hands inside and pushing against against the taut layer of sheer nylon.
Tillie stands by the filing cabinet to show off her fabulous rounded ass sheathed in her black hose and bounded by the pink suspenders staining on her stocking tops. She reaches behind her back to release the catch of her bra and strips it off and turns to pose pin-up style in her lingerie and layers of nylon hosiery.