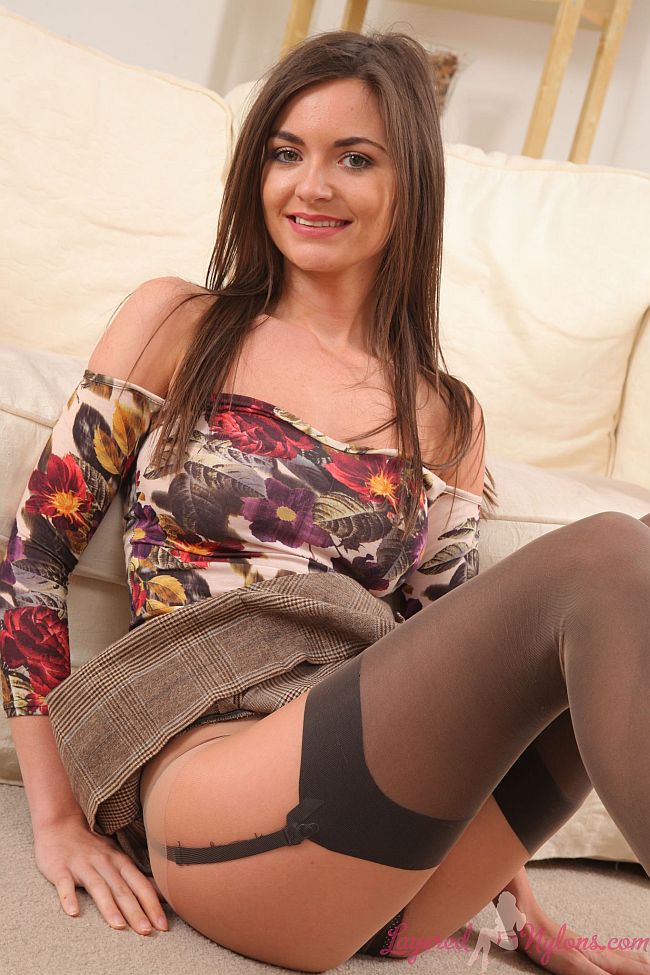 Tianna posed in her low cut top and short skirt that flared out rather nicely around thighs as she turned to show off her legs in hosiery and feet in black and gold stiletto heels.
Tianna lifted the skirt slightly, teasing us with glimpses of black suspenders and stockings under a layer of beige-tan sheer nylon pantyhose. Then sitting on the sofa she smiled and opened her legs to give an upskirt view of the black triangle of her pantie thong between her lovely thighs.
Tianna lay on the floor and slipped off her heels and dangled them from her toes, then kicked them off and raised up her legs to give a close up view of the soles of her feet in their layers of hose.
Getting up to stand in her stockinged feet, she unzipped her skirt and let it slowly slide down her legs to he floor. She kicked the skirt away, then stripped the stretchy top over her head to uncover her all natural breasts which hung down her chest as she posed topless in her lingerie, stockings and pantyhose.
Tianna pushed her hand down the rear of her pantyhose and spread her fingers over her panties and squeezed the soft flesh of her bum cheeks. She turned to face forward and hooking her thumbs under the waist of her pantyhose, she pulled them up level with her boobs so the gusset stretched tight around the crotch of her black pantie thong.