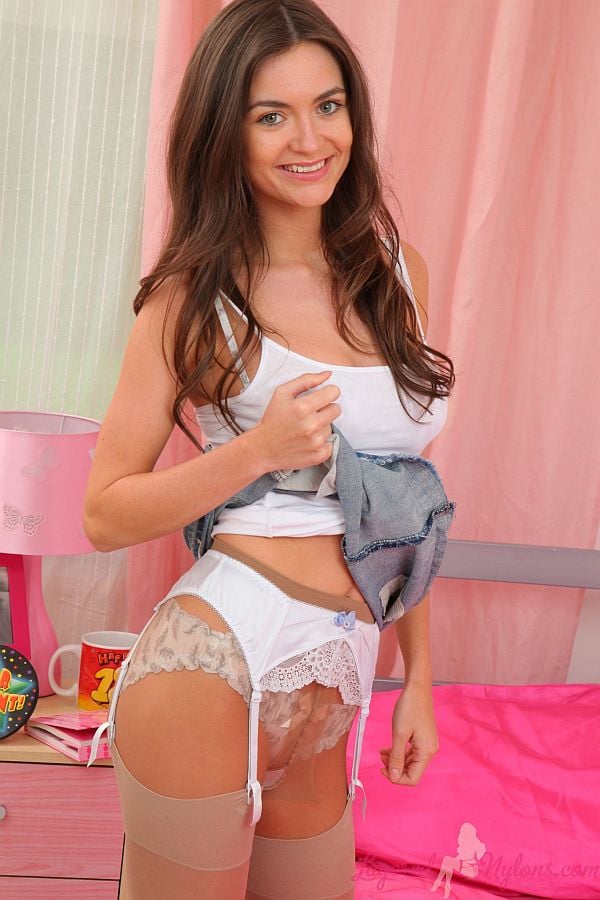 Tianna posed in her causal outfit and looked back over her shoulders as she lifted her short denim skirt, giving us a tantalizing look at her white suspenders pulling on the tops of her beige nylon stockings. She pulled her skirt higher, revealing more of her pretty, full-back panties, which she was wearing under a fine layer of tan, sheer nylon pantyhose.
Tianna stripped of her skirt and sat back on the bed, opening her legs to give a view of the opaque, oval patch of her gusset, stretched over the whiteness of her panties. She pulled her top over her head to uncover her matching bra, then slipped off her heels and allowed them to dangle from her stockinged feet and toes.
Tianna stood on the bed mattress in her stockinged feet and gave a lovely rear view of her pantied ass, suspenders and stockings, as she unhooked her bra. Then she turned and slipped the bra straps over her shoulders and pulled it away from her chest to reveal her all natural breasts.
Pushing her hands under her suspender belt and the the inside of her pantyhose, she spread her fingers over the soft material of her sexy panties and smiled at us as she posed topless in her layers of nylon hosiery.