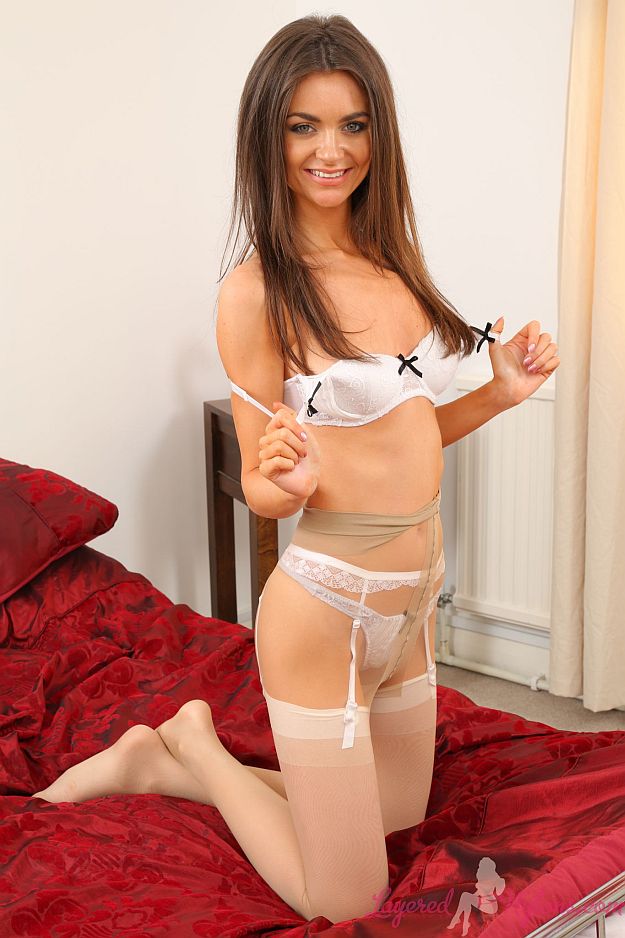 Tianna posed in her loose fitting blue cotton dress, lifting it up to show her skimpy suspender-belt, white pantie thong and stockings, under a layer of beige-tan sheer nylon pantyhose.
Tianna turned and leaned against the bottom rail of the bed and pulled the dress up to show the cheeks of her ass covered in the light-denier of her hose. She leaned forward and her suspenders stretched across the back her thighs and tugged on the tops of her white stockings.
Tianna stripped off her dress and stretched the waistline of her pantyhose up level with the cups of of her white bra. Then pushing her arms deep inside the hose, she moved her hands under the thin membrane of sheer nylon and spread her fingers around the cheeks of her sexy bum.
She reclined on the bed and kicked off her heels, then made a show of slowly teasing out of her bra and stripping it away to expose her petite, all natural breasts.
Standing in her stockinged feet, Tianna once more pulled on her pantyhose, so the gusset stretched tight around the crotch of her panties and the sheer nylon hose covered her naked tits.