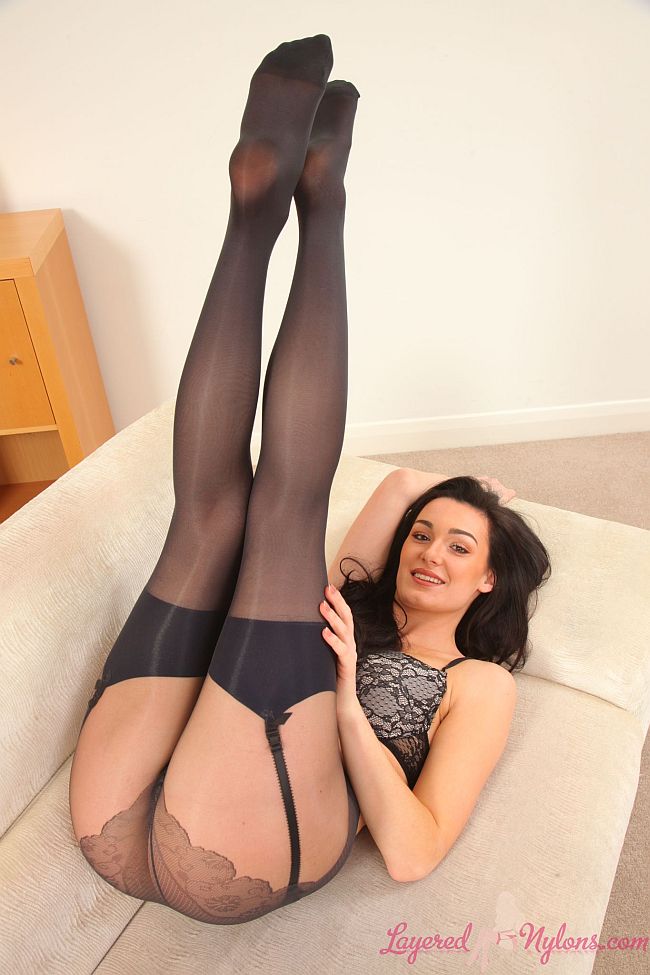 Tanya likes to tease by lifting up her pink dress and giving a tantalizing view of her black stockings under grey, sheer nylon pantyhose in this photo-set.
Laying back on the sofa, she flung her legs wide open and the dress fell around her hips, revealing long black suspenders attached to the shiny welts of her stockings. The light-grey motif at the rear of her pantyhose spread across her buttocks and under her crotch where she wore a black lace pantie thong.
Tanya hooked her thumbs under the waist of her pantyhose, then lifting her ass off the couch she pulled the sheer nylon up her belly so it stretched around the crotch of her pantie thong. She pushed her hands down the front of her tights, and the elasticated waist stretched between her forearms as she spread her fingers across the flesh of her thighs.
Tanya stripped off her flowing dress, revealing a black lacy bra that matched her panties, then undoing the buckles of her strappy heels, she lifted her legs up high to show off her pretty feet in their layers of dark nylon hosiery.
Undoing the catch of her lacy bra, she briefly held the cups in place before stripping them away and revealing her petite all natural breasts. She pulled her pantyhose down her legs and stripped them off, followed by her panties. Then putting her hose back on, she stood in her stockinged feet and posed topless in her suspenders and layers of nylon hosiery.