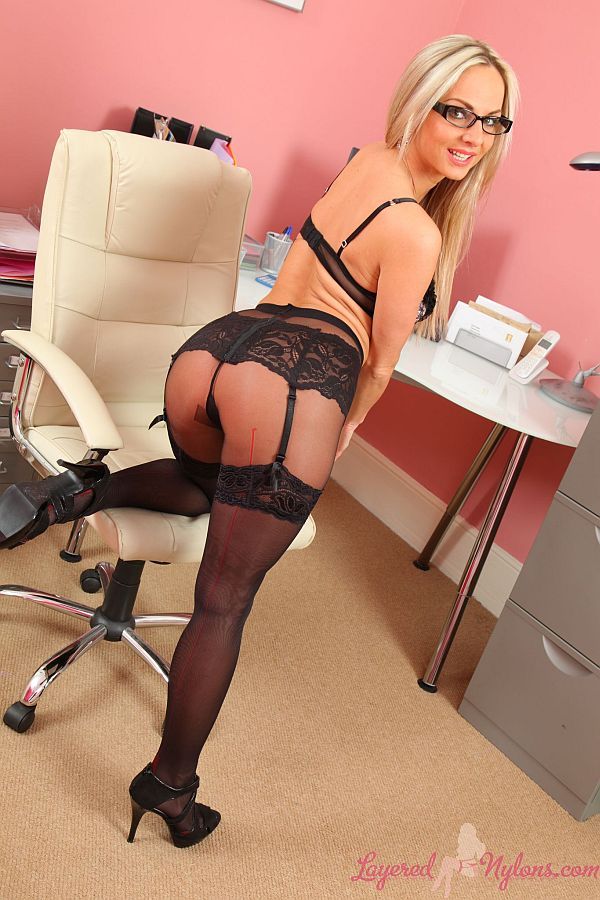 There's something sexy about a secretary in glasses, especially when she's as smartly dressed as Tammy in her short skirt, black nylons and heels.
Tammy sat on the edge of the desk with her legs crossed, then slowly pulled up the side of her skirt to give a glimpse of suspenders, attached to the lace tops of her black stockings.
Uncrossing her legs, she parted them ever so slightly to give a tantalizing view up her skirt and reveal she was sans panties behind the black gusset of her sheer nylon pantyhose.
Tammy stood and leaned over the desk, slowly pulling her skirt up higher to display the cheeks of her shapely ass, which looked incredibly sexy encased in it's layer of black nylon hose and taut suspenders.
Removing her skirt and top, she fully revealed her expensive, lingerie bra and deep lace suspender belt, which almost matched the pattern of her lacy stockings tops.
Sitting in the chair she then stripped away the bra, then slipped off her heels and extended her legs horizontally, giving a real close up view of her feet cocooned in their layers of nylon stockings and pantyhose.