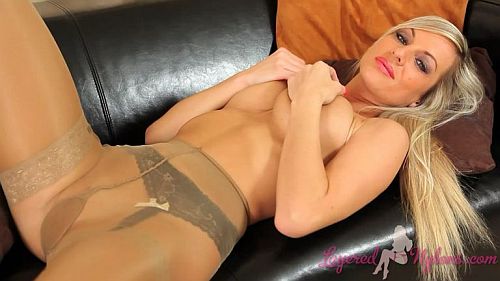 Sexy blonde babe Tammy elegantly sways in her red satin evening dress and gathering the folds, she slowly lifts the slinky material up her legs in their shiny nylon pantyhose. Lifting the dress up to her waist reveals she is sans panties under her sheer tan pantyhose, which is also layered over beige lace top stockings and a very sexy black suspender belt.
Tammy turns and flips the back of her dress up over her pantyhosed buttocks and wiggles her peachy ass tightly encased in shiny nylon. The thick seam of her hose runs between the cleft of her butt cheeks, which are nicely framed by the taut black suspenders stretching down to her lacy stocking tops.
Unzipping the dress, it slides down her body revealing the mounds of her soft naked breasts. Then moving her hands sensuously over the contours of her stockinged legs, she briefly caresses her ankles before slipping off the heels.
Tammy relaxes on the sofa and extending her legs she points her pretty nyloned feet and admires how beautiful they look in tan hosiery. Playfully stretching the waist of her sheer pantyhose around her hips, she enjoys the erotic sensation as her hands brush over her shapely legs, ass and thighs sheathed in layers of delicate nylon.
See just how sexy Tammy looks when she teases in layers of nylon pantyhose over stockings in her video at Layered-Nylons.