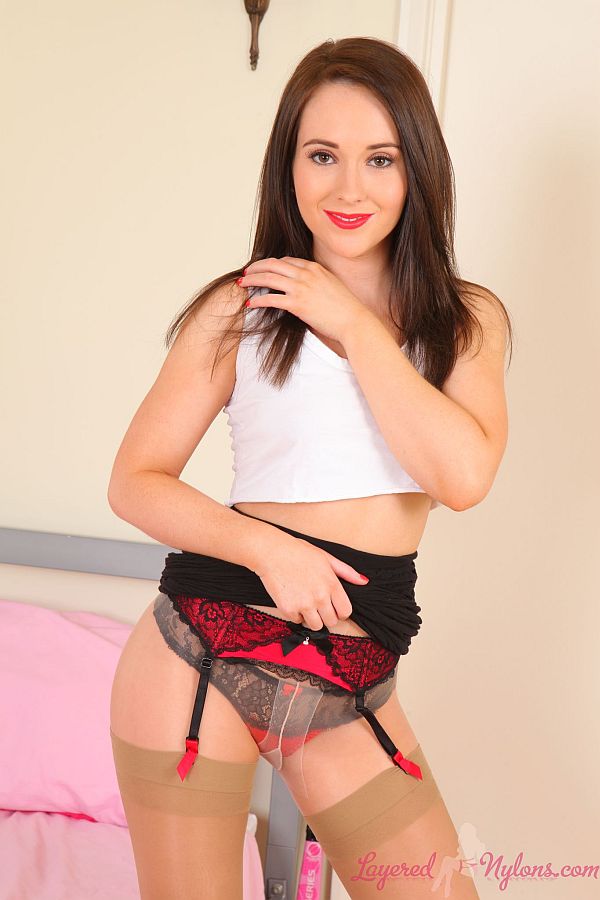 Brunette babe Tammy is a lot of fun loves to tease, so she dressed in a skimpy summer top and short black skirt, beige-tan nylons and shiny, black heels for this photo session.
Giving us a saucy smile, she slowly lifted up her tight skirt, revealing a layer of black suspenders attached to her stockings, framing the red and black lacy panties under her sheer nylon pantyhose.
Tammy stood in her stilettos which made her legs look so attractive, then looking back over her shoulder, she slowly teased her tight skirt over her ass. She turned to give us a full on view of her sexy bum, sheathed in it's delicate layer of sheer nylon pantyhose and the black suspenders stretching over her buttocks, pulling taut on the tops of her tan nylon stockings.
Tammy sat on the bed and extending her legs, she dangled her heels from her toes, before taking them off and kneeling on the bed to display the soles of her dainty feet clad in their layers of soft, tan nylon.
Pulling her top over her head, she uncovered her petite all natural breasts and their soft, pink nipples, then reclined on the bed to pose in her lacy suspender belt, panties and layers of tan nylon hosiery.