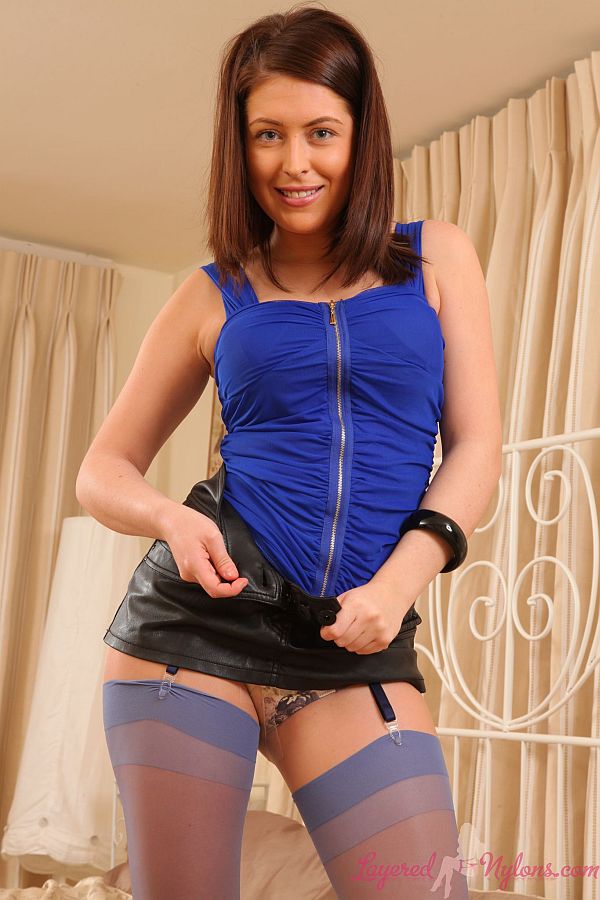 Susie Grace looked fit to party in her tight top and revealing, leather skirt, giving us a tantalizing glimpse of the clasps of her suspenders, attached to the blue tops of her stockings.
Susie pulled up the front of the skirt to show she was wearing pretty, cream coloured and black lace panties, under a layer of tan, sheer nylon pantyhose. Then undoing the top button of her skirt, she turned and pulled it over the cheeks of her ass to display more of her lacy panties covering her buttocks.
Unzipping the front of her top, she uncovered a floral patterned bra which matched her panties, then turned and pushed her hands down the back of her pantyhose. Her hands moved around under the stretchy material of her satin suspender belt and sheer nylon pantyhose; her fingers gripping her thighs and the flesh of her buttocks through the lace of her sexy panties.
Susie lay on the bed and removing her heels she lay back and lifted up her legs, crossing them at the ankles to give a close up view of her sexy feet dressed in layers of tan and blueish nylon. Then she stripped off her bra and pulled the waist of her pantyhose up her front, so the sheer nylon was stretched over the flesh of her all natural breasts.